Charleston Plastic Surgeon Customizes Rhinoplasty for Improved Function and Aesthetics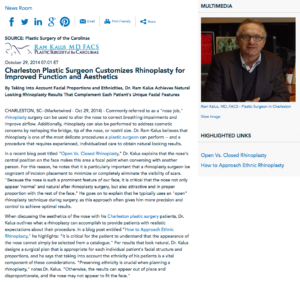 By taking into account facial proportions and ethnicities, Dr. Ram Kalus achieves natural looking rhinoplasty results that complement each patient's unique facial features.
Charleston, SC – Commonly referred to as a "nose job," rhinoplasty surgery can be used to alter the nose to correct breathing impairments and improve airflow. Additionally, rhinoplasty can also be performed to address cosmetic concerns by reshaping the bridge, tip of the nose, or nostril size. Dr. Ram Kalus believes that rhinoplasty is one of the most delicate procedures a plastic surgeon can perform – and a procedure that requires experienced, individualized care to obtain natural looking results.
In a recent blog post titled "Open Vs. Closed Rhinoplasty," Dr. Kalus explains that the nose's central position on the face makes this area a focal point when conversing with another person. For this reason, he notes that it is particularly important that a rhinoplasty surgeon be cognizant of incision placement to minimize or completely eliminate the visibility of scars. "Because the nose is such a prominent feature of our face, it is critical that the nose not only appear "normal" and natural after rhinoplasty surgery, but also attractive and in proper proportion with the rest of the face." He goes on to explain that he typically uses an "open" rhinoplasty technique during surgery, as this approach often gives him more precision and control to achieve optimal results.
When discussing the aesthetics of the nose with his Charleston plastic surgery patients, Dr. Kalus outlines what a rhinoplasty can accomplish to provide patients with realistic expectations about their procedure. In a blog post entitled "How to Approach Ethnic Rhinoplasty," he highlights: "It is critical for the patient to understand that the appearance of the nose cannot simply be selected from a catalogue." For results that look natural, Dr. Kalus designs a surgical plan that is appropriate for each individual patient's facial structure and proportions, and he says that taking into account the ethnicity of his patients is a vital component of these considerations. "Preserving ethnicity is crucial when planning a rhinoplasty," notes Dr. Kalus. "Otherwise, the results can appear out of place and disproportionate, and the nose may not appear to fit the face."
About Ram Kalus, MD, FACS
Dr. Kalus has been in practice for nearly 25 years and specializes in aesthetic facial surgery, facial skin cancer reconstruction, and cosmetic and reconstructive breast surgery. He is certified by the American Board of Plastic Surgery and is a Fellow of the American College of Surgeons. In addition, Dr. Kalus is a member of the American Society for Aesthetic Plastic Surgery (ASAPS) and the American Society of Plastic Surgeons (ASPS). He is available for interview upon request.
For more information about Dr. Kalus and Plastic Surgery of the Carolinas, please visit plasticsurgerycarolina.com and Facebook.com/plasticsurgerycarolina.
Contact:
Plastic Surgery of the Carolinas
578 Lone Tree Dr. Ste.102
Mount Pleasant, SC 29464
(843) 881-3881
Rosemont Media
(858) 200-0044
www.rosemontmedia.com