Charleston Plastic Surgeon Highlights What a Mommy Makeover Entails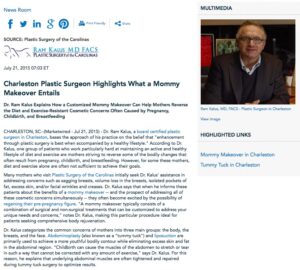 Dr. Ram Kalus explains how a customized mommy makeover can help mothers reverse the diet and exercise-resistant cosmetic concerns often caused by pregnancy, childbirth, and breastfeeding.
Charleston, SC – Dr. Ram Kalus, a board certified plastic surgeon in Charleston, bases the approach of his practice on the belief that "enhancement through plastic surgery is best when accompanied by a healthy lifestyle." According to Dr. Kalus, one group of patients who work particularly hard at maintaining an active and healthy lifestyle of diet and exercise are mothers striving to reverse some of the bodily changes that often result from pregnancy, childbirth, and breastfeeding. However, for some these mothers, diet and exercise alone are often not sufficient to achieve their goals.
Many mothers who visit Plastic Surgery of the Carolinas initially seek Dr. Kalus' assistance in addressing concerns such as sagging breasts, volume loss in the breasts, isolated pockets of fat, excess skin, and/or facial wrinkles and creases. Dr. Kalus says that when he informs these patients about the benefits of a mommy makeover – and the prospect of addressing all of these cosmetic concerns simultaneously – they often become excited by the possibility of regaining their pre-pregnancy figure. "A mommy makeover typically consists of a combination of surgical and non-surgical treatments that can be customized to address your unique needs and concerns," notes Dr. Kalus, making this particular procedure ideal for patients seeking comprehensive body rejuvenation.
Dr. Kalus categorizes the common concerns of mothers into three main groups: the body, the breasts, and the face. Abdominoplasty (also known as a "tummy tuck") and liposuction are primarily used to achieve a more youthful bodily contour while eliminating excess skin and fat in the abdominal region. "Childbirth can cause the muscles of the abdomen to stretch or tear in such a way that cannot be corrected with any amount of exercise," says Dr. Kalus. For this reason, he explains that underlying abdominal muscles are often tightened and repaired during tummy tuck surgery to optimize results.
While many women are familiar with the changes the breasts undergo during and after pregnancy and breastfeeding, the Charleston plastic surgeon notes that they may not know there is a medical name for this condition: post-partum involution. "Characterized by the appearance of smaller and/or sagging breasts due to lost volume, this condition often arises after having one or more children." For patients experiencing these concerns, breast augmentation with implants can create fuller, firmer breasts while a breast lift can help correct any sagging or drooping by removing excess skin and elevating the position of the breasts on the chest wall.
Injectables, such as BOTOX® Cosmetic and JUVÉDERM®, can complete a mommy makeover and reduce the appearance of facial wrinkles and creases, explains Dr. Kalus. Often used to improve fine lines and wrinkles that can result from stress and various environmental factors, he says injectables have long been used to smooth the skin while also helping to achieve a rested and revitalized appearance. Dr. Kalus is also excited to announce the introduction of state-of-the-art laser, IPL, and radiofrequency options for facial and body skin tightening, wrinkle reduction, and non-surgical fat reduction – all of which will be available in his expanded office and Medspa in the Autumn of 2015.
Ultimately, Dr. Kalus states that every mommy makeover includes a customized combination of effective surgical and nonsurgical procedures to help meet each patient's personal goals. After a mommy makeover, he notes that women can enjoy a slimmer, firmer, and more toned figure, often with the added benefit of an overall boost in self-confidence.
About Ram Kalus, MD, FACS
Dr. Kalus earned his undergraduate and medical degrees from Boston University. He went on to complete his general surgery training at the University of Connecticut and Hartford Hospital. Afterward, he completed his training in plastic surgery at the Dartmouth Hitchcock Medical Center, the Division of Plastic Surgery at the University of Massachusetts Medical Center, and the Hospital for Sick Children in Paris, France. Dr. Kalus is certified by the American Board of Plastic Surgery and has been a practicing plastic surgeon for nearly 25 years. In addition, he is an active member of the American Society of Plastic Surgeons and the American Society for Aesthetic Plastic Surgery. Dr. Kalus is available for interview upon request.
For more information about Dr. Kalus and his practice, please visit plasticsurgerycarolina.com and facebook.com/plasticsurgerycarolina.
Contact:
Plastic Surgery of the Carolinas
578 Lone Tree Dr. Ste. 102
Mount Pleasant, SC 29464
(843) 881-3881
Rosemont Media
(858) 200-0044
www.rosemontmedia.com