Charleston Plastic Surgeon Introduces New Dermal Filler Technique to Help Erase Fine Lines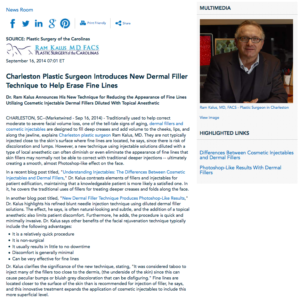 Dr. Ram Kalus announces his new technique for reducing the appearance of fine lines utilizing cosmetic injectable dermal fillers diluted with topical anesthetic.
Charleston, SC — Traditionally used to help correct moderate to severe facial volume loss, one of the tell-tale signs of aging, dermal fillers and cosmetic injectables are designed to fill deep creases and add volume to the cheeks, lips, and along the jawline, explains Charleston plastic surgeon Ram Kalus, MD. They are not typically injected close to the skin's surface where fine lines are located, he says, since there is risk of discoloration and lumps. However, a new technique using injectable solutions diluted with a type of local anesthetic can often diminish or even eliminate the appearance of fine lines that skin fillers may normally not be able to correct with traditional deeper injections – ultimately creating a smooth, almost Photoshop-like effect on the face.
In a recent blog post titled, "Understanding Injectables: The Differences Between Cosmetic Injectables and Dermal Fillers," Dr. Kalus contrasts elements of fillers and injectables for patient edification, maintaining that a knowledgeable patient is more likely a satisfied one. In it, he covers the traditional uses of fillers for treating deeper creases and folds along the face.
In another blog post titled, "New Dermal Filler Technique Produces Photoshop-Like Results," Dr. Kalus highlights his refined blunt needle injection technique using diluted dermal filler solutions. The effect, he says, is often natural-looking and subtle, and the addition of a topical anesthetic also limits patient discomfort. Furthermore, he adds, the procedure is quick and minimally invasive. Dr. Kalus says other benefits of the facial rejuvenation technique typically include the following advantages:
It is a relatively quick procedure
It is non-surgical
It usually results in little to no downtime
Discomfort is generally minimal
Can be very effective for fine lines
Dr. Kalus clarifies the significance of the new technique, stating, "It was considered taboo to inject many of the fillers too close to the dermis, (the underside of the skin) since this can cause peculiar bumps or bluish grey discoloration that can be disfiguring." Fine lines are located closer to the surface of the skin than is recommended for injection of filler, he says, and this innovative treatment expands the application of cosmetic injectables to include this more superficial level.
Costs associated with this new technique are higher than typical injections due to the advanced training and additional procedure time, Dr. Kalus notes. However, "The results speak for themselves," he says, "I've not seen this much excitement with a non-surgical technique in quite some time."
About Ram Kalus, MD, FACS
Dr. Kalus is certified by the American Board of Plastic Surgery and is a Fellow of the American College of Surgeons. He has been in practice for nearly 25 years, and he specializes in aesthetic facial surgery, facial skin cancer reconstruction, and cosmetic and reconstructive breast surgery. Dr. Kalus is a member of the American Society for Aesthetic Plastic Surgery (ASAPS) and the American Society for Plastic Surgeons (ASPS). He has also been recognized by the American Academy of Pediatrics as a pediatric specialist. Dr. Kalus is available for interview upon request.
For more information about Dr. Kalus and Plastic Surgery of the Carolinas, please visit plasticsurgerycarolina.com and Facebook.com/plasticsurgerycarolina.
Contact:
Plastic Surgery of the Carolinas
578 Lone Tree Dr. Ste.102
Mount Pleasant, SC 29464
(843) 881-3881
Rosemont Media
(858) 200-0044
www.rosemontmedia.com