Charleston Plastic Surgeon Reveals Method for Selecting the Right Breast Implants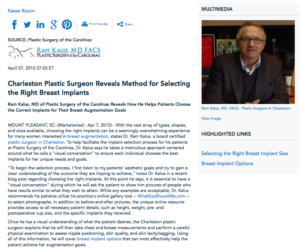 Ram Kalus, MD of Plastic Surgery of the Carolinas reveals how he helps patients choose the correct implants for their breast augmentation goals.
Mount Pleasant, SC — With the vast array of types, shapes, and sizes available, choosing the right implants can be a seemingly overwhelming experience for many women interested in breast augmentation, states Dr. Ram Kalus, a board certified plastic surgeon in Charleston. To help facilitate the implant selection process for his patients at Plastic Surgery of the Carolinas, Dr. Kalus says he takes a meticulous approach centered around what he calls a "visual conversation" to ensure each individual chooses the best implants for her unique needs and goals.
"To begin the selection process, I first listen to my patients' aesthetic goals and try to gain a clear understanding of the outcome they are hoping to achieve," notes Dr. Kalus in a recent blog post regarding choosing the right implants. At this point he says, it is essential to have a "visual conversation" during which he will ask the patient to show him pictures of people who have results similar to what they wish to attain. While any examples are acceptable, Dr. Kalus recommends his patients utilize his practice's online gallery tool – WhatSizeShouldiBe.com – to select photographs. In addition to before-and-after pictures, the unique online resource provides access to all necessary patient details, such as height, weight, pre- and postoperative cup size, and the specific implants they received.
Once he has a visual understanding of what the patient desires, the Charleston plastic surgeon explains that he will then take chest and breast measurements and perform a careful physical examination to assess nipple positioning, skin quality, and skin laxity/sagging. Using all of this information, he will cover breast implant options that can most effectively help the patient achieve her augmentation goals.
Ultimately, Dr. Kalus indicates that his main objective during the selection process is to fully educate the patient about every implant option available to her so she can make the most informed decision possible. By doing so, he adds that he has found postoperative levels of satisfaction to be exceptionally high.
About Ram Kalus, MD, FACS
Certified by the American Board of Plastic Surgery, Dr. Kalus earned his medical degree from Boston University. At Plastic Surgery of the Carolinas, he offers a comprehensive span of cosmetic treatments and procedures ranging from breast augmentation and liposuction to abdominoplasty and mommy makeovers. Additionally, he provides several reconstructive surgery options, including breast reconstruction, breast reduction, facial skin cancer and nasal reconstruction, scar revision, and more.
Dr. Kalus is a Fellow of the American College of Surgeons, as well as a member of the American Society of Plastic Surgeons and the American Society for Aesthetic Plastic Surgery. He is also affiliated with several local hospitals and surgical facilities.
To learn more, visit plasticsurgerycarolina.com and plus.google.com/u/0/107983464250392317919/about. Dr. Kalus is available for interview upon request.
Contact:
Plastic Surgery of the Carolinas
578 Lone Tree Drive Suite 102
Mount Pleasant, SC 29464
(843) 881-3881
Rosemont Media
(858) 200-0044
www.rosemontmedia.com