OxyGeneo® 3-in-1 Super Facial
Created by Pollogen®, the OxyGeneo® 3-in-1 Super Facial is a revolutionary treatment designed to nourish and oxygenate the skin for a smoother and younger-looking complexion. This advanced technique combines gentle exfoliation, deep facial skin rejuvenation, and natural skin oxygenation into a single treatment, helping to infuse the skin with key nutrients while improving its tone, texture, and overall appearance. After just one OxyGeneo® Super Facial, patients can achieve exceptional results with little to no downtime at all.
What Can the OxyGeneo® 3-in-1 Super Facial Do?
The OxyGeneo® 3-in-1 Super Facial can be performed to rejuvenate and revitalize the skin for a more youthful complexion. Safe for any skin type, this advanced treatment can help:
Hydrate and plump the skin
Restore skin volume
Produce a youthful radiance
Refresh a dull complexion
Minimize fine lines and wrinkles and smooth the skin
Enhance the production of skin cells
Diminish uneven pigmentation
The OxyGeneo® Super Facial Treatment
To begin treatment, the skilled aestheticians at Plastic Surgery of the Carolinas will use a special hand-held device with a Capsugen® tablet tip to exfoliate the upper layer of facial skin. This process works to remove dead cells while smoothing and renewing the skin, ultimately preparing it to receive revitalizing nutrients such as NeoRevive™ for anti-aging and/or NeoBright™ for texture enhancement and skin brightening. Once the skin has been exfoliated and cleansed, the OxyGeneo® effect stimulates a natural response that sends oxygen-rich blood to the targeted region. This reaction effectively increases skin metabolism and capillary flow, resulting in the optimal absorption of key skin nutrients and a rejuvenated appearance.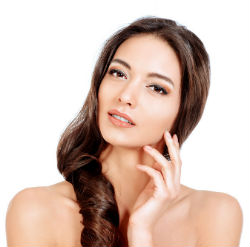 Following the OxyGeneo® Super Facial, there is essentially no downtime or recovery. In fact, many patients come in to receive treatment on their lunch break and are able to return to work and/or daily activities immediately afterward. A "flushed" appearance may be apparent for individuals with sensitive skin, but this will resolve quickly. Unlike many other non-invasive facial treatments, results from the OxyGeneo® Super Facial are seen immediately, and the rejuvenative effects are cumulative.
Contact Our Practice
To learn more about the OxyGeneo® 3-in-1 Super Facial, or if you would like to schedule a consultation with one of our aestheticians or board-certified plastic surgeons, please contact us today.