Charleston Plastic Surgeon Recognized as a Top Medical Influencer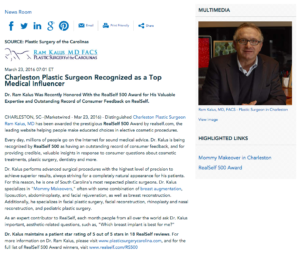 Dr. Ram Kalus was recently honored with the RealSelf 500 Award for his valuable expertise and outstanding record of consumer feedback on RealSelf.
Charleston, SC – Distinguished Charleston Plastic Surgeon Ram Kalus, MD has been awarded the prestigious RealSelf 500 Award by realself.com, the leading website helping people make educated choices in elective cosmetic procedures.
Every day, millions of people go on the Internet for sound medical advice. Dr. Kalus is being recognized by RealSelf 500 as having an outstanding record of consumer feedback, and for providing credible, valuable insights in response to consumer questions about cosmetic treatments, plastic surgery, dentistry and more.
Dr. Kalus performs advanced surgical procedures with the highest level of precision to achieve superior results, always striving for a completely natural appearance for his patients. For this reason, he is one of South Carolina's most respected plastic surgeons. Dr. Kalus specializes in "Mommy Makeovers," often with some combination of breast augmentation, liposuction, abdominoplasty, and facial rejuvenation, as well as breast reconstruction. Additionally, he specializes in facial plastic surgery, facial reconstruction, rhinoplasty and nasal reconstruction, and pediatric plastic surgery.
As an expert contributor to RealSelf, each month people from all over the world ask Dr. Kalus important, aesthetic-related questions, such as, "Which breast implant is best for me?"
Dr. Kalus maintains a patient star rating of 5 out of 5 stars in 18 RealSelf reviews. For more information on Dr. Ram Kalus, please visit www.plasticsurgerycarolina.com, and for the full list of RealSelf 500 Award winners, visit www.realself.com/RS500
About Ram Kalus, MD
Board Certified by the American Board of Plastic Surgery, Dr. Ram Kalus is a Fellow of the American College of Surgeons and an active member of the American Society of Plastic Surgeons (ASPS) and the American Society for Aesthetic Plastic Surgery (ASAPS), which has recognized his practice as an endorsed Aesthetic Surgery Fellowship for training future plastic surgeons. He practices in Charleston, South Carolina, with his office located in Mount Pleasant.  He is also licensed in Israel, his birthplace.
Dr. Kalus' reputation for excellence is known both in the United States and internationally. His patient draw is not only from the Carolinas, but from the entire East Coast, including New York City and Washington D.C. Additionally, Dr. Kalus treats many patients who travel from the Caribbean, Central and South America, and as far away as Europe, the Middle East, and Australia.
About RealSelf
Founded in 2006, RealSelf is considered the largest online community for gathering and sharing information about aesthetic surgery and numerous other elective treatments. The consolidated gathering of photographs, doctors reviews, patient questions, physician-provided answers and more make RealSelf a highly reputable resource for individuals considering a cosmetic treatment or procedure.
Contact:
Susan Sellers
Flair Marketing and Advertising
843-343-2088
susan@flaireventsandmarketing.com
Plastic Surgery of the Carolinas
578 Lone Tree Dr. Ste. 102
Mount Pleasant, SC 29464
(843) 881-3881
Rosemont Media
(858) 200-0044
www.rosemontmedia.com