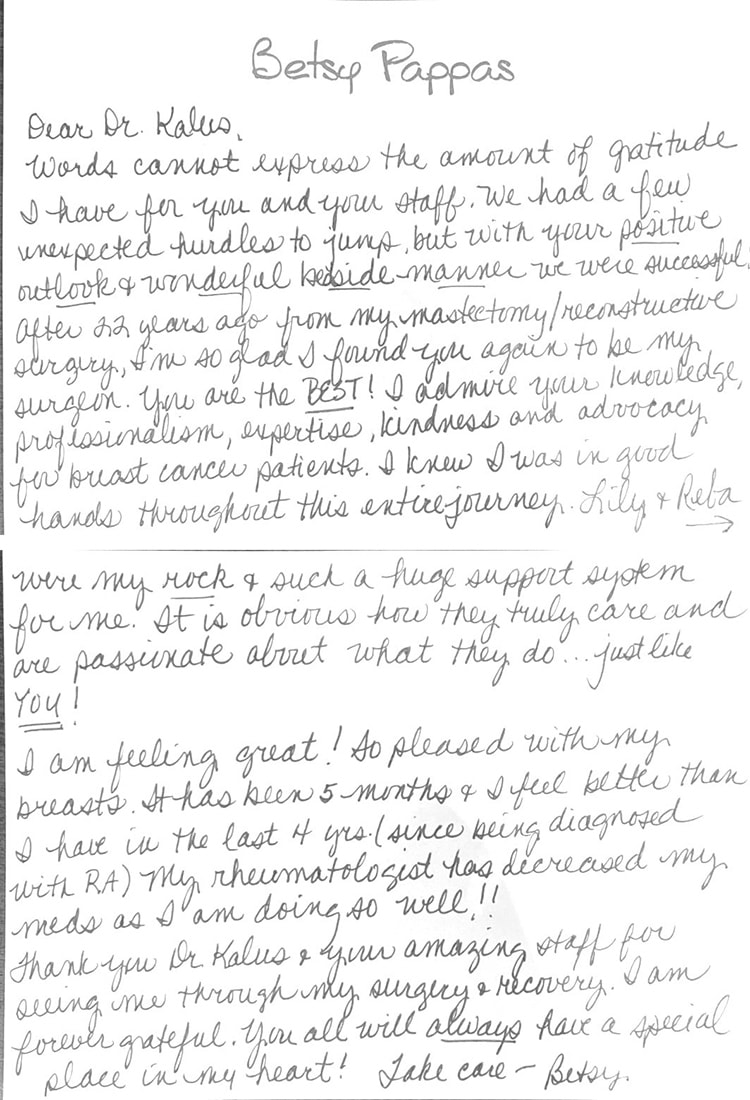 Dear Dr. Kalus,
Words cannot express the amount of gratitude I have for you and your staff. We had a few unexpected hurdles to jump, but with your positive outlook and wonderful beside-manner we were successful! After 22 years ago from my mastectomy/reconstructive surgery, I'm so glad I found you again to be my surgeon. You at the BEST! I admire your knowledge, professionalism, expertise, kindness and advocacy for breast cancer patients. I know I was in good hands throughout the entire journey. Lila and Reba were my rock and such a huge support system for me. It is obvious how they truly care and are passionate about what they do…just like you!
I am feeling great! So pleased with my breasts. It has been 5 months and I feel better than I have in the last 4 years (since being diagnosed with RA). My rheumatologist has decreased my meds and I am doing so well!
Thank you Dr. Kalus and your amazing staff for seeing me through my surgery and recovery. I am forever grateful. You all will always have a special place in my heart!
Take Care,
- Betsy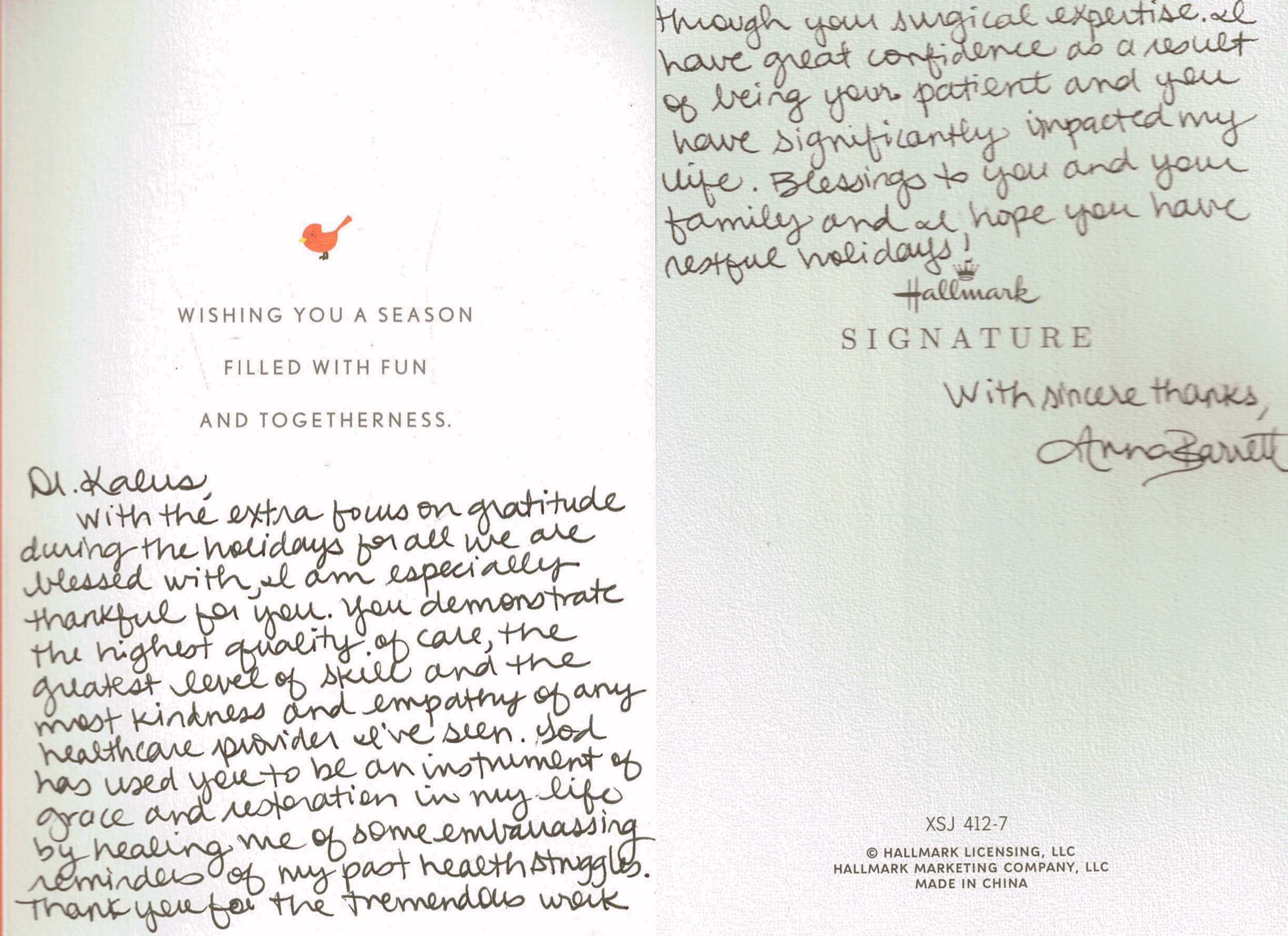 Dr. Kalus,
With the extra focus on gratitude during the holidays for all we are blessed with, I am especially thankful for you. You demonstrate the highest quality of care, the greatest level of skill and the most kindness and empathy of any healthcare provider I've seen. God has used you to be an instrument of grace and restoration in my life by healing me of some embarrassing reminders of my past health struggles. Thank you for the tremendous work.
Through your surgical expertise, I have great confidence as a result of being your patient and you have significantly impacted my life. Blessings to you and your family and I hope you have a restful holiday!
With sincere thanks,
Anna Barrett
Dr. Kalus,
I can't thank you enough for everything you have done for me! You showed me how much you care about your patients from day one and I appreciate that more than you'll ever know! You have given me feelings of confidence and happiness that I have not felt in a very long time and I cannot tell you how good it feels.
I wish you a safe trip back to Israel and a very Merry Christmas!
Love,
Kaylee White
Dr. Kalus,
I hope you are doing well and staying healthy.
I wanted to touch base with you and say THANK YOU for taking me on as a patient. I cannot express my gratitude enough. You have given me the results of my dreams and a brand new confidence.
I am four weeks post-op tomorrow and my breast augmentation results already exceeded my expectations. My incision glue also came off yesterday and the incisions are hardly visible!
To be transparent, when I first met you for a consultation, I made the appointment at the request of my partner. I originally believed I had my mind set and wanted to go with the first surgeon I visited however, he insisted that I schedule a consultation with you after a recommendation from a friend.
During my previous consultations with other providers, I was told of all the "problems" I may run into with my results because of the shape of my chest. The difference in your consultation is that you made me feel normal and offered SOLUTIONS while still being realistic. You listened, took your time, and answered all of my concerns.
I was quite perplexed when I left the consultation because I believed that I had my mind made up prior but my gut was telling me to go with Plastic Surgery of the Carolinas.
I am so happy I went with my gut feeling. I know for a fact that trusting you with my surgery and size selection were the best decisions I made.
I would also like to thank Nurse Reba for her work, authenticity, and compassion. You were both the reason for my decision to go with Plastic Surgery of the Carolinas.
Thank you for everything and I will see you in a few months.
Best,
M.R.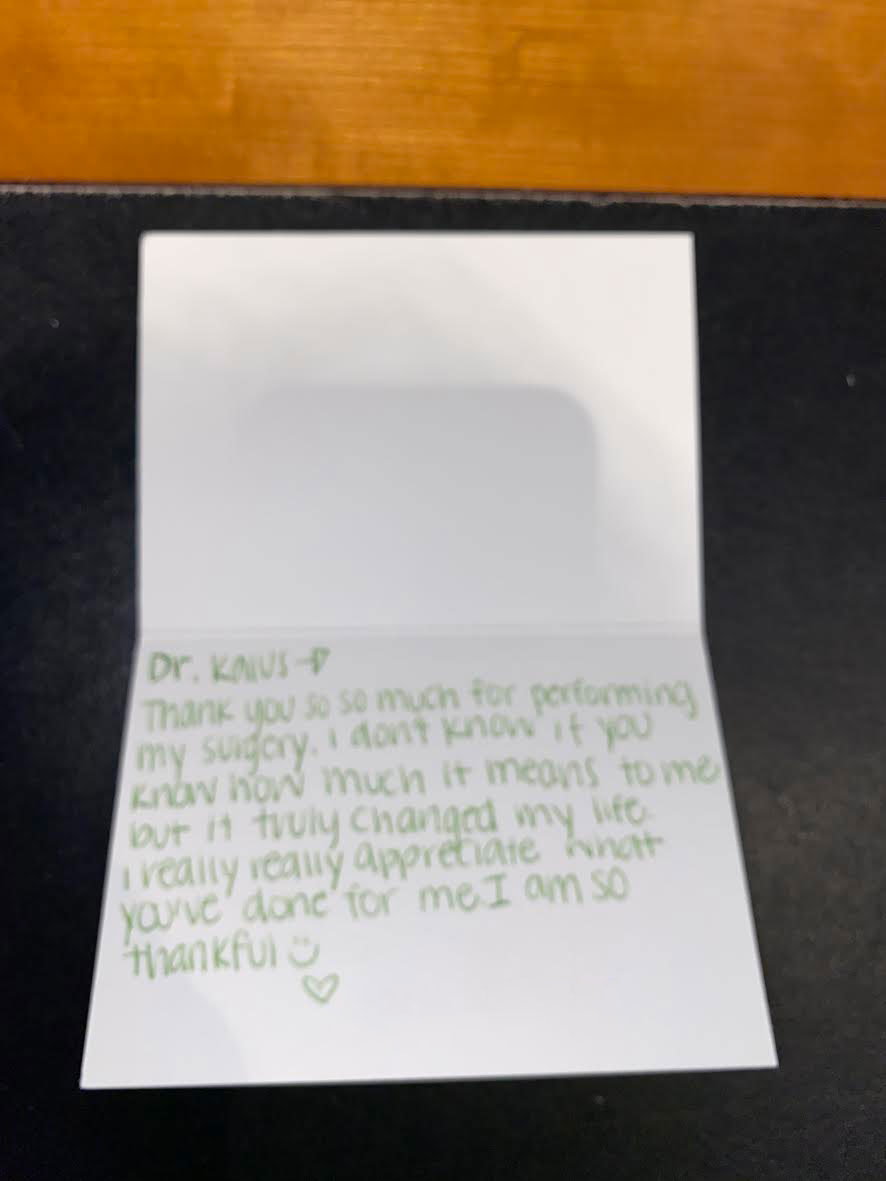 Dr. Kalus.
Thank you so so much for performing my surgery. I don't know if you know how much it means to me but it truly changed my life. I really really appreciate what you've done for me. I am so thankful. :-)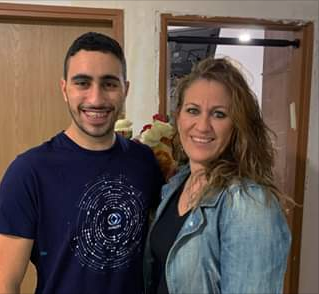 In honor of Family Day (Yom Ha Mishpakha) I wanted to thank my amazing son who made a dream come true for me. For my birthday, he decided to surprise me big time. He knew that the wrinkles and worry lines on my forehead and between my brows really bothered me. So he decided to do something special for me and in the middle of an all around fun day which he had planned, which included a massage and a wonderful lunch at my favorite restaurant, without my knowledge he scheduled an appointment for me with plastic surgeon Dr. Ram Kalus at Assuta Aesthetica for correction of my wrinkles. I am SOOO happy with the results! I feel as though my result is amazing, and that my dream has been fulfilled. Every morning I am reminded of how happy I am because of the amazing transformation, and the smile never leaves my face. I could not be more pleased. Thank you, Dr. Kalus!!!
-Orna, Beit Shemsh*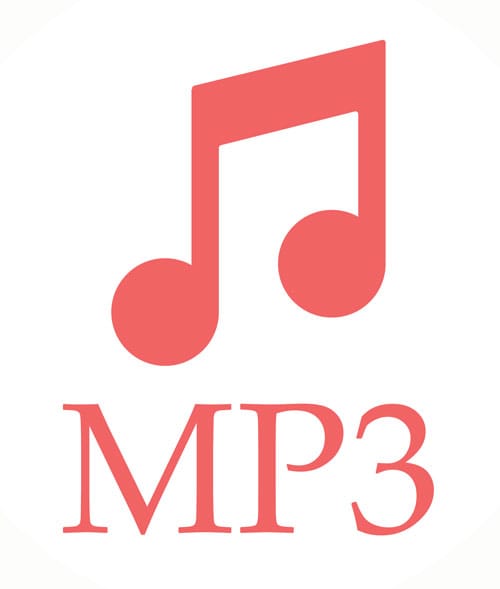 Listen to the full review for Dr. Kalus

Just wanted to shoot you an email and let you know how thrilled I am with my reconstruction! I am probably even more symmetric than I was pre-operatively. My incisions are hardly visible even when looking for them. They are perfect and I am so thankful for your skill and compassion to do this.

After having had a mastectomy in 1996 and an abdominal TRAM flap reconstructive procedure in 1998, I was left with a larger constructed breast that drooped over the years making me unbalanced. This affected my back and I was left without two vertical core muscles used for the flap blood supply, which helped support my back. Over the years, two highly recommended plastic surgeons attempted to lift and balance my breasts; however, the heavier constructed breasts would gradually begin to droop lower than the other. I wanted both removed as I was so uncomfortable.
Thankfully in 2018, I met Dr. Craig Rowin who successfully decreased their size and lifted my breasts evenly on my chest in lieu of having them removed. He makes you feel at ease, as he is a very compassionate, professionally confident, and friendly doctor. He is easy to talk with and explains in detail what he feels he can do to help you. I highly recommend Dr. Craig Rowin and his partner, Dr. Ram Kalus, who also consulted me to discuss my options. The staff at Plastic Surgery of the Carolinas is warm and helpful, making the entire process a very positive and relaxed experience for the patient.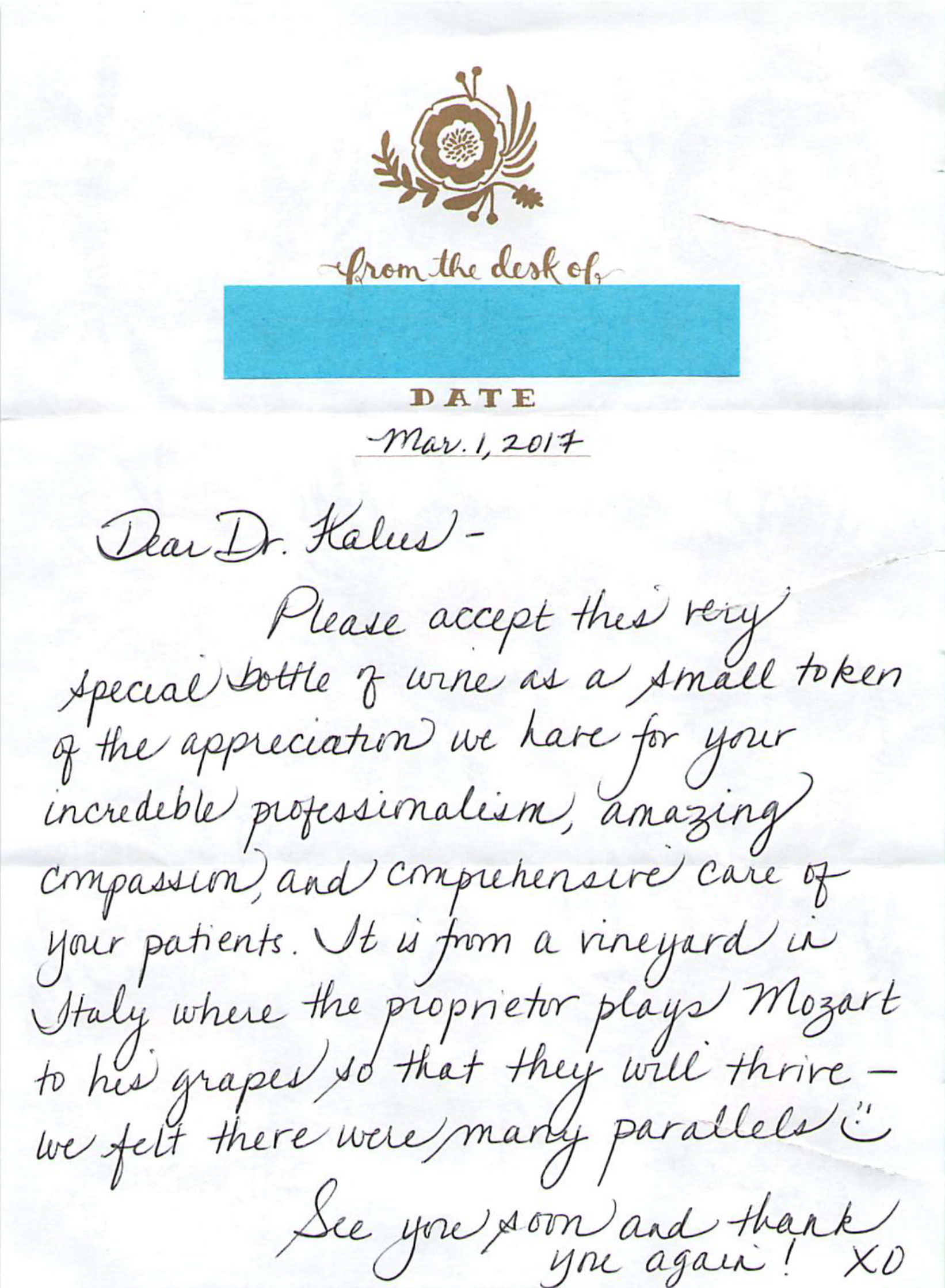 Dear Dr. Kalus,
Please accept this very special bottle of wine as a small token of my appreciation that I have for your incredible professionalism, amazing compassion, and comprehensive care of your patients. It is from a vineyard in Italy where the proprietor plays Mozart to his grapes so that they will thrive—we felt there were many parallels.
See you soon and thank you again! Xo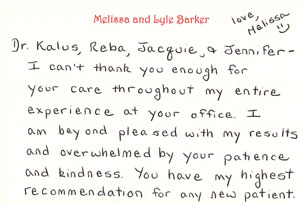 Dr. Kalus, Jacque, and Jennifer,
I can't thank you enough for your care throughout my entire experience at your office. I am beyond pleased with my results and overwhelmed by your patience and kindness. You have my highest recommendation for any new patient.
Love,
Melissa*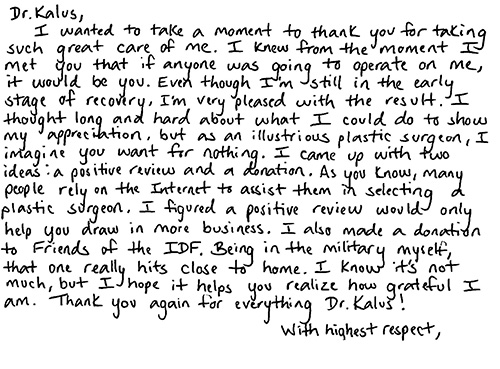 I wanted to take a moment to thank you for taking such great care of me. I knew from the moment I met you that if anyone was going to operate on me, it would be you. Even though I'm still in the early stage of recovery, I'm very pleased with the result. I thought long and hard about what I could do to show my appreciation, but as an illustrious plastic surgeon, I imagine you want for nothing. I came up with two ideas: a positive review and a donation. As you know, many people rely on the Internet to assist them in selecting a plastic surgeon. I figured a positive review would only help you draw in more business. I also made a donation to Friends of the IDF. Being in the military myself, that one really hits close to home. I know it's not much, but I hope it helps you realize how grateful I am. Thank you again for everything, Dr. Kalus!
With the highest respect,
J.L. – Patient Charleston, SC*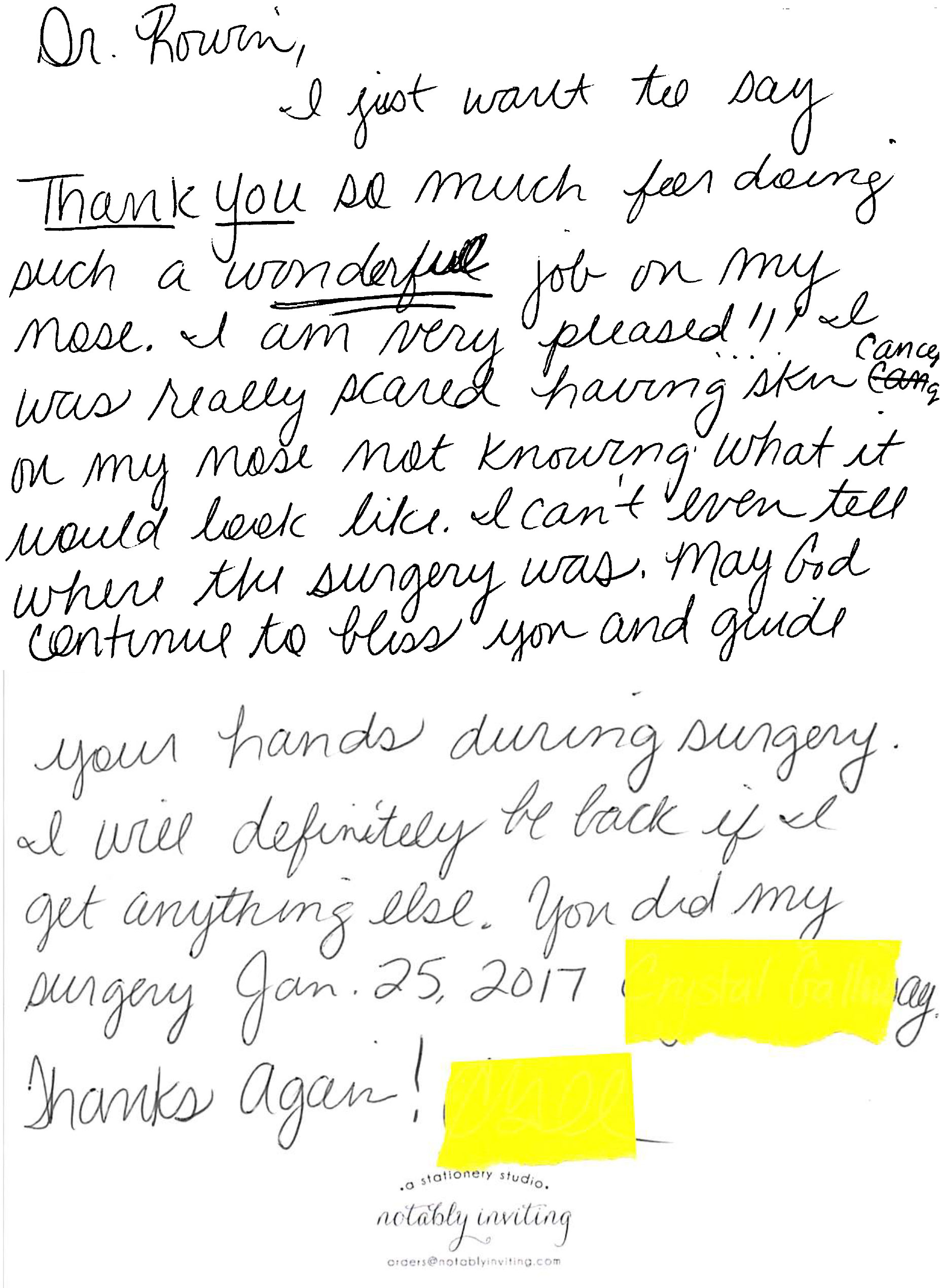 Dr. Rowin,
I just wanted to say thank you so much for doing such a wonderful job on my nose. I am very pleased!!!! I was really scared having skin cancer on my nose and not knowing what it would look like. I can't even tell where the surgery was. May God continue to bless you and guide your hand during surgery. I will definitely be back if I get anything else. You did my surgery Jan 25, 2017.
Thanks again!

Hi Dr. Kalus,
I just wanted to say thank you again for the incredible work you did with my breast augmentation. I'm not sure that I communicated how much I love the results. Seeing them for the first time was a bit of a jolt, but as I continue to become acclimated to them, I'm more able to appreciate how right they are for me. They look very similar to the examples we liked on your "What Size Should I Be" gallery, and the profile, sizing, etc. are perfect. Thank you so much for being so kind and available during the process and for a job very well done.
- M.E.*

Dear Dr. Kalus,
Thank you so much for taking the time to respond to my questions. My husband and I are both thrilled that you will be doing my surgery. We both feel so comfortable with you and your wisdom. We trust you completely to make the best decisions for my body. Thank you so much for being so kind, caring, and compassionate with me!!! I'm very blessed to have you on my Surgical Team!!
Sincerely,
- S.F.*

Dear Dr. Kalus,
I just wanted to mention that you are taking excellent care of me!!! My whole family and I agree that deciding to go with you to complete the reconstruction was absolutely the perfect fit for my needs. You have been so patient and kind!!!! THANK YOU SO MUCH for everything!!!!! We are truly grateful!!
I've never had another physician treat me with such kindness. Usually, I am just a number in their assembly line of patients. You shine far above all the rest because I believe you really do care about every single patient that you have!!
-D.S., Breast Cancer Patient, Mount Pleasant, SC*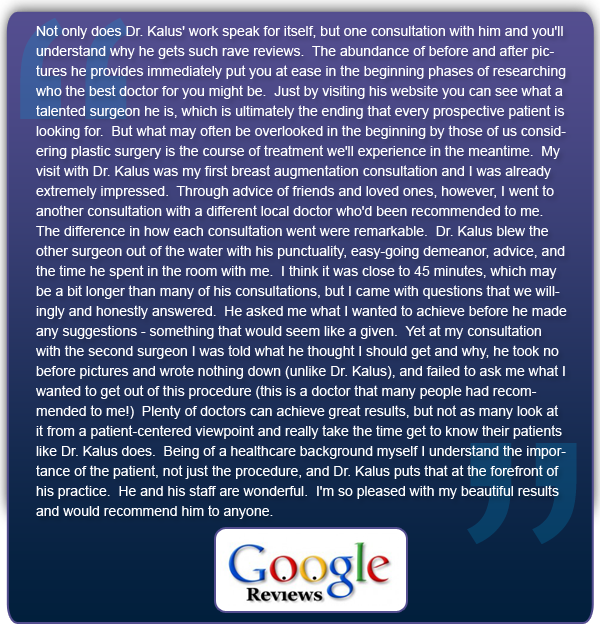 Not only does Dr. Kalus' work speak for itself, but one consultation with him and you'll understand why he gets such rave reviews. The abundance of before and after pictures he provides immediately puts you at ease in the beginning phases of researching who the best doctor for you might be. Just by visiting his website you can see what a talented surgeon he is, which is ultimately the ending that every prospective patient is looking for. But what may often be overlooked in the beginning by those of us considering plastic surgery is the course of treatment we'll experience in the meantime.
My visit with Dr. Kalus was my first breast augmentation consultation and I was already extremely impressed. Through the advice of friends and loved ones, however, I went to another consultation with a different local doctor who'd been recommended to me. The difference in how each consultation went was remarkable. Dr. Kalus blew the other surgeon out of the water with his punctuality, easy-going demeanor, advice, and the time he spent in the room with me. I think it was close to 45 minutes, which may be a bit longer than many of his consultations, but I came with questions that he willingly and honestly answered. He asked me what I wanted to achieve before he made any suggestions – something that would seem like a given. Yet at my consultation with the second surgeon, I was told what he thought I should get and why, he took no before pictures and wrote nothing down (unlike Dr. Kalus), and failed to ask me what I wanted to get out of this procedure (this is a doctor that many people had recommended to me!). Plenty of doctors can achieve great results, but not as many look at it from a patient-centered viewpoint and really take the time to get to know their patients like Dr. Kalus does.
Being of a healthcare background myself, I understand the importance of the patient, not just the procedure, and Dr. Kalus puts that at the forefront of his practice. He and his staff are wonderful. I'm so pleased with my beautiful results and would recommend him to anyone!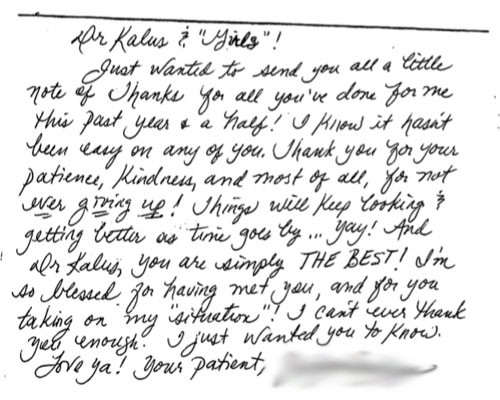 Dr. Kalus & Girls,
Just wanted to send you all a little note of thanks for all you've done for me this past year and a half! I know it hasn't been easy on any of you. Thank you for your patience, kindness, and most of all, for not ever giving up! Things will keep looking and getting better as time goes by...yay! And Dr. Kalus, you are simply THE BEST! I'm so blessed for having met you, and for you taking on my "situation"! I can't ever thank you enough. I just wanted you to know.
Love ya!
Your Patient, J.H.*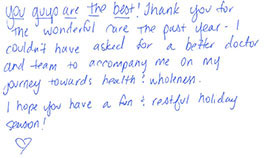 You guys are the best! Thank you for the wonderful care the past year—I couldn't have asked for a better doctor and team to accompany me on my journey towards health and wholeness. I hope you have a fun and restful holiday season!
- J.M.*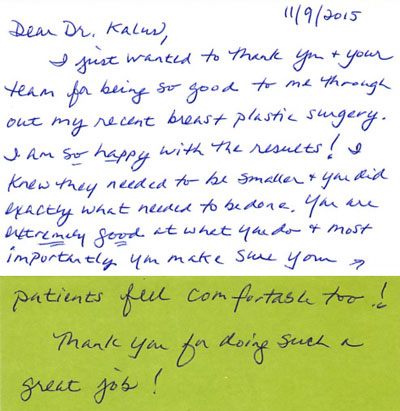 Dear Dr. Kalus,
I just wanted to thank you and your team for being so good to me throughout my recent breast plastic surgery. I am so happy with the results! I knew they needed to be smaller and you did exactly what needed to be done. You are extremely good at what you do, and most importantly, you make sure your patients feel comfortable too! Thank you for doing such a great job!
Sincerely,
- S.R.*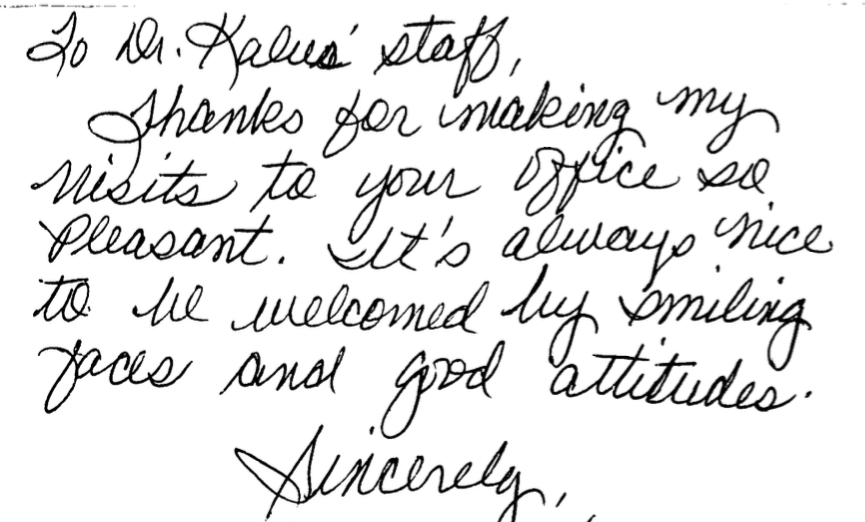 To Dr. Kalus' Staff,
Thanks for making my visits to your office so pleasant. It's always nice to be welcomed by smiling faces and good attitudes.
Sincerely,
- J.H.*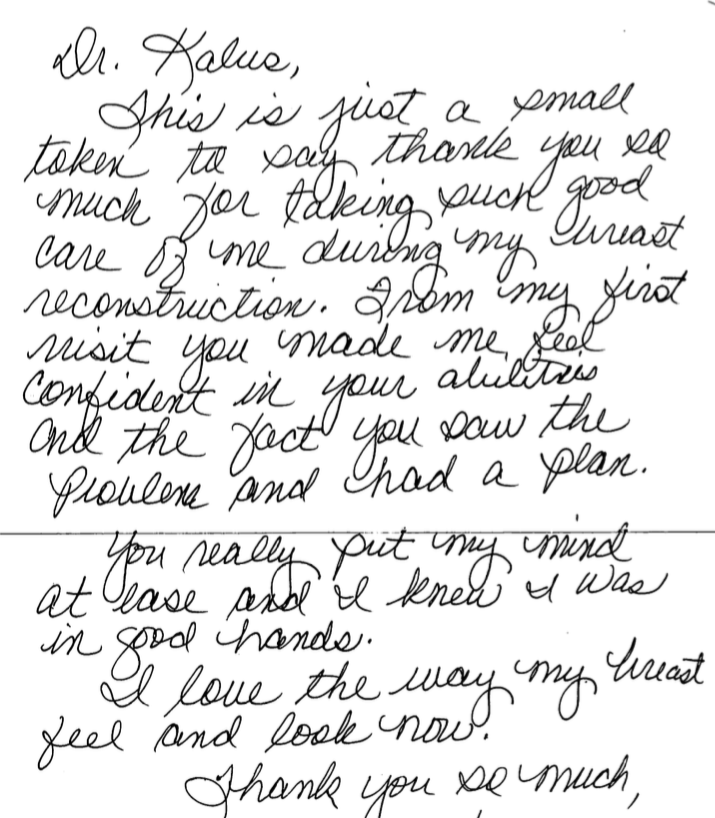 Dr. Kalus,
This is just a small token to say thank you so much for taking such good care of me during my breast reconstruction. From my first visit you made me feel confident in your attitude and the fact that you saw the problem and had a plan. You really put my mind at ease and I knew I was in good hands. I love the way my breasts feel and look now.
Thank you so much,
- J.H.*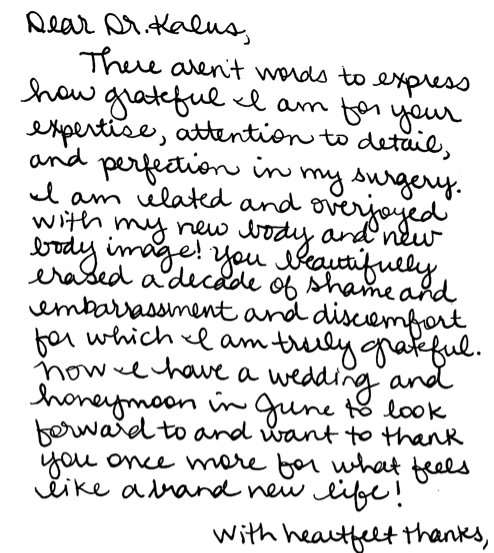 Dr. Kalus,
There aren't words to express how grateful I am for your expertise, attention to detail, and perfection in my surgery. I am elated and overjoyed with my new body and new body image! You beautifully erased a decade of shame, embarrassment, and discomfort for which I am truly grateful. I want to thank you once more for what feels like a brand new life!
With heartfelt thanks,
-C.D.*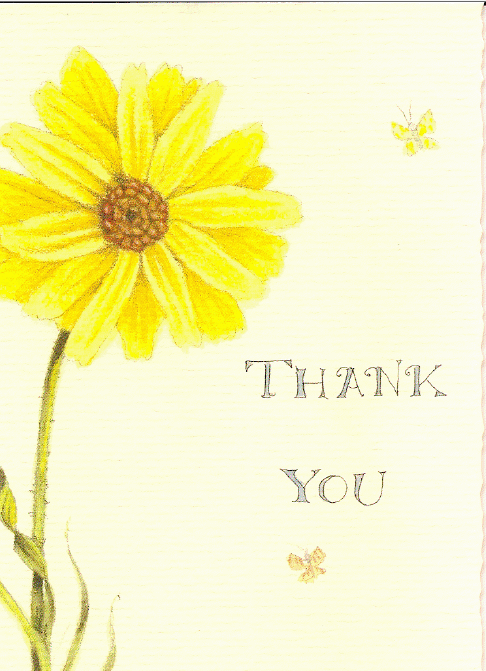 I cannot thank you enough for your care and compassion during the preparation for my abdominoplasty and after the surgery. I am truly fortunate to have found a Plastic Surgeon of your skill here in Columbia.
- P.S., Abdominoplasty Patient Columbia, SC*
Dear Dr. Kalus,
I wanted to take a moment to thank you for doing such a wonderful job on my breast augmentation a couple of months ago. This was something I thought about doing for a long time and I'm glad I finally did it. My results are very natural—I look like I did before I had my children and I couldn't be more pleased. So a big thank you to you and your wonderful staff for taking such good care of me!
- T.P., Mommy Makeover, Columbia, SC*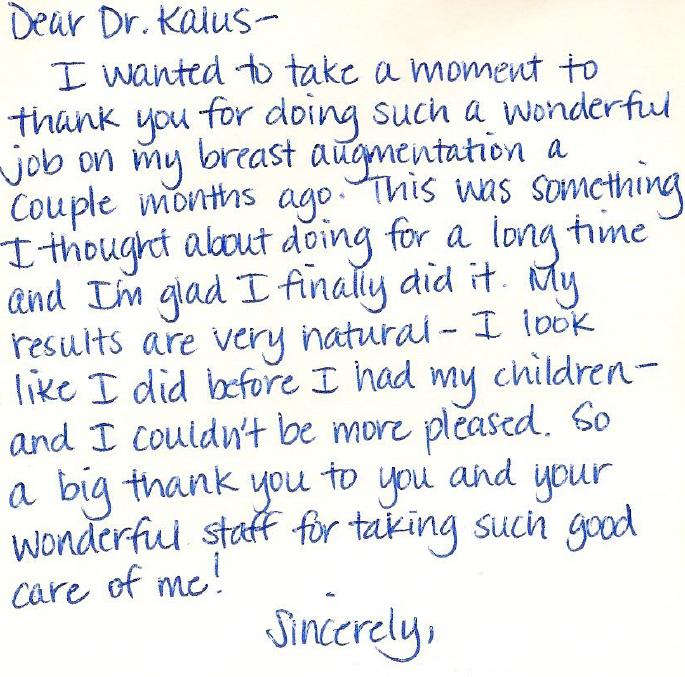 Dear Dr. Kalus,
I am just thrilled with the success of my recent liposuction. I was born with a rounded belly that only got worse as I aged. Your surgery flattened my abdomen and gave me the motivation to take better care of myself through diet and exercise.
- L.D., Liposuction Patient Charleston, SC*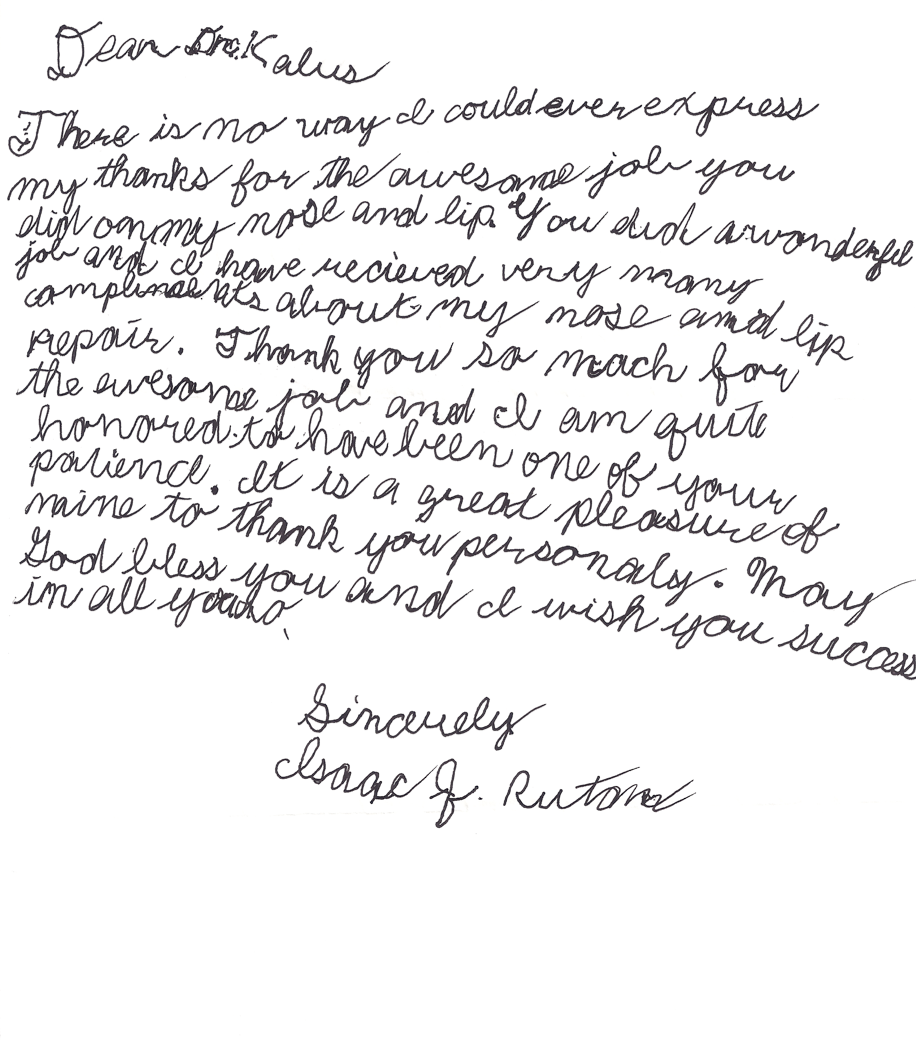 Dear Dr. Kalus,
There is no way I could ever express my thanks for the awesome job you did on my nose and lip. You did a wonderful job and I have received many compliments about my nose and lip repair. Thank you so much for the awesome job and I am quite honored to have been one of your patients. It is a great pleasure of mine to thank you personally. May God bless you and I wish you success in all you do.
Sincerely,
Isaac. (12 years old, cleft lip repaired at infancy)*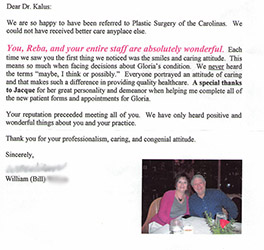 We are so happy to have been referred to Plastic Surgery of the Carolinas. We could not have received better care anyplace else.
You, Reba, and your entire staff are absolutely wonderful. Each time we saw you, the first things we noticed were the smiles and caring attitude. This means so much when facing decisions about Gloria's condition. We never heard the terms, "maybe," "I think," or "possibly." Everyone portrayed an attitude of care and that makes such a difference in providing quality healthcare. A special thanks to Jacque for her great personality and demeanor when helping me complete all of the new patient forms and appointments for Gloria.
Your reputation preceded meeting all of you. We have only heard positive and wonderful things about you and your practice.
Thank you for your professionalism, care, and congenial attitude.
Sincerely,
William (Bill)*
After years of research and consideration, I finally decided to actually begin the process of what I wanted my ideal breast augmentation to look like. I gathered before and after photos—mainly from the website lovemylook—that I felt looked like me before and represented the result I hoped to see post-op. Imagine my surprise when I researched each photo's performing physician and found out 8 out of 12 were done by Dr. Kalus! And only 2 hrs from where I live!
My surgery was yesterday and I just came from my follow up appointment. No pain and very little discomfort. Incredible how good I actually feel just 24 hrs later. The results—amazing!! Exactly what I wanted.
From the office staff to the nurses, the entire staff at Charleston Surgery Center where my surgery was performed, and of course Dr. Kalus—all were the epitome of professionalism and care. I am still somewhat in disbelief that this process I stressed over for years was so easy. Thank you sweet ladies and Dr. Kalus!
-L.F., Breast Augmentation Patient*
Dear Dr. Kalus,
You are such a wonderful person and an extremely talented physician. Thank you for taking care of me and helping me through my procedure. There are no words that I can find to truly express my gratitude and admiration for you. My father said that "you were the best" and only demanded that you were the one to operate on me. It is so clear to me now why he felt so strongly. May God continue to bless you and your family, for he has blessed me so graciously by bringing your skill, talent, and care into my life.
I am very truly yours,
- N.S., Plastic Surgery Patient Columbia, SC*
Dr. Kalus,
I wanted to drop you a note to thank you for the impeccable care you and your staff provided me for my recent rhinoplasty. As you know, this is the second procedure you have performed for me and, as before, I am tickled with my results. It truly is still me, only better. I look forward to our continued relationship as doctor/patient and friends.
- J.L., Rhinoplasty Patient Columbia, SC*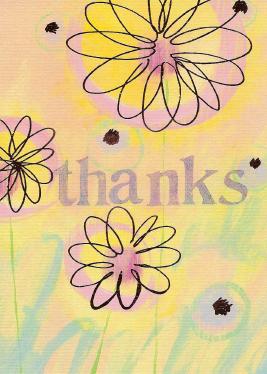 Dr. Kalus & Staff,
This is to express my gratitude and appreciation for the wonderful care I received from you and your staff. I am very pleased and happy with the outcome. I would recommend your services to anyone looking for a more comfortable life with their body.
Thank you again for the wonderful care.
- L.P., Breast Augmentation Patient Columbia, SC*
Dear Dr. Kalus,
It has been 10 years since you performed my life-changing breast reduction.
I have always been so happy with my surgery and have since told numerous other women how it was such a positive experience and such an easy recovery. I know it sounds cheesy but having reduction surgery truly changed my life for the better, significantly improving my self esteem. Since having it done, I began a career working in women's fashion—something I know I would never have had the confidence to do if I had not had the surgery.
So truly, thank you for making all of that possible! It is so nice to have an opportunity to say thanks to someone who changed my life.
- J.L., Breast Reduction Patient, SC*
Dr. Kalus,
Thank you so much for your excellent work. Your calm demeanor immediately put me at ease and the whole surgery experience was way better than I ever imagined. My new chin and chest are absolutely perfect. You are the best!
- D.D., Chin and Breast Augmentation Patient Columbia, SC*
Dear Dr. Kalus,
As you know, I have been under your care for ten years due to my breast cancer.
I would like to thank you for the outstanding care I have received during all my hospitalizations and post-care. Your bedside manner, plastic surgery/medical expertise, dedication to me as a patient, and your profession are without a doubt the best I have ever known. I can honestly say that without your constant commitment to me, I would not be writing this letter today. You have the ability to put a patient at ease and therefore I have always trusted you.
In addition, you have managed to put together the best staff in any office in Columbia. They are always willing to answer medical questions, insurance, procedures, etc. I commend you for your efforts.
Please feel free to give my name to any prospective patient as a referral.
My best regards and future success to you and everyone on your staff.
- H.M., Breast Reconstruction Patient Columbia, SC*
Dear Dr. Kalus,
Thank you for a fabulous breast augmentation. I love it, my husband loves it, and my friends can't believe how natural my breasts look. I knew after our initial consultation that you were the best surgeon for me. Thank you for making my experience a positive one. (Thanks to Amanda for all her advice—she eased my nerves!)
- C.D., Breast Augmentation Patient Columbia, SC*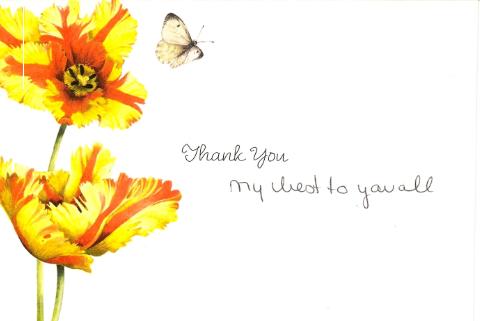 Dear Dr. Kalus,
With each passing day, I am even more pleased with my results from my recent surgery. I want to thank you and your wonderful staff for making my first ever experience with plastic surgery so incredible. At my age, 61, it was a big step for me to even consider surgery, but I am so glad I did. It is now just 6 weeks since the surgery and the results are amazing. My face and neck look so refreshed, and the best part is that I still look like me. I have always wanted to deal with the aging process on my own terms and with your help, I have. I so appreciate your talent and skill.
- L.D., Facelift Patient Columbia, SC*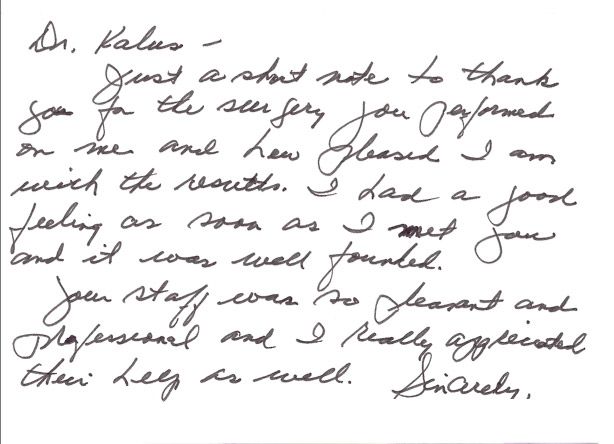 Dr. Kalus,
Just a short note to thank you for the surgery you performed on me and how pleased I am with the results. I had a good feeling as soon as I met you and it was well-founded.
Your staff was so pleasant and professional and I really appreciated their help as well.
Sincerely,
-JW*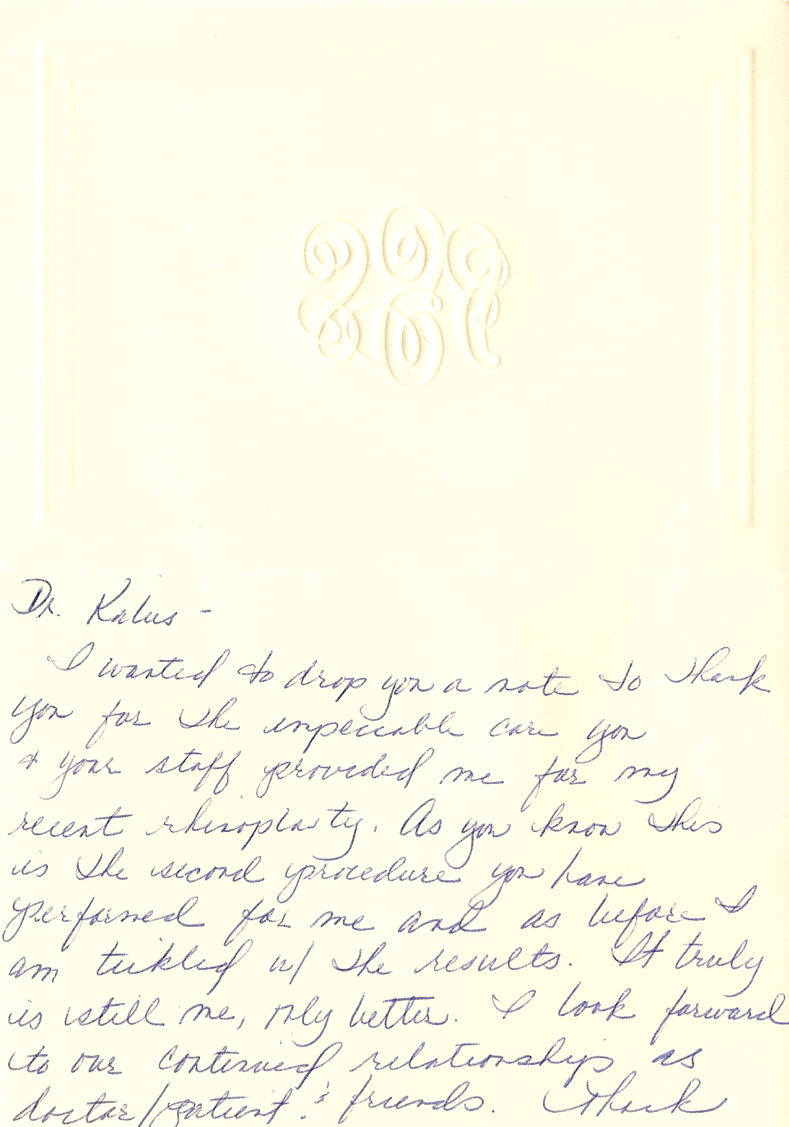 Dear Dr. Kalus,
I wanted to drop you a note to thank you for the impeccable care you and your staff provided me for my recent rhinoplasty. As you know this is the second procedure you have performed for me as as before I am tickled with the results. It truly is still me, only better. I look forward to our continued relationship as doctor/patient and friends. Thanks again for giving me the nose I was meant to have! I love it!!!
- S.G., Rhinoplasty Patient Charleston, SC*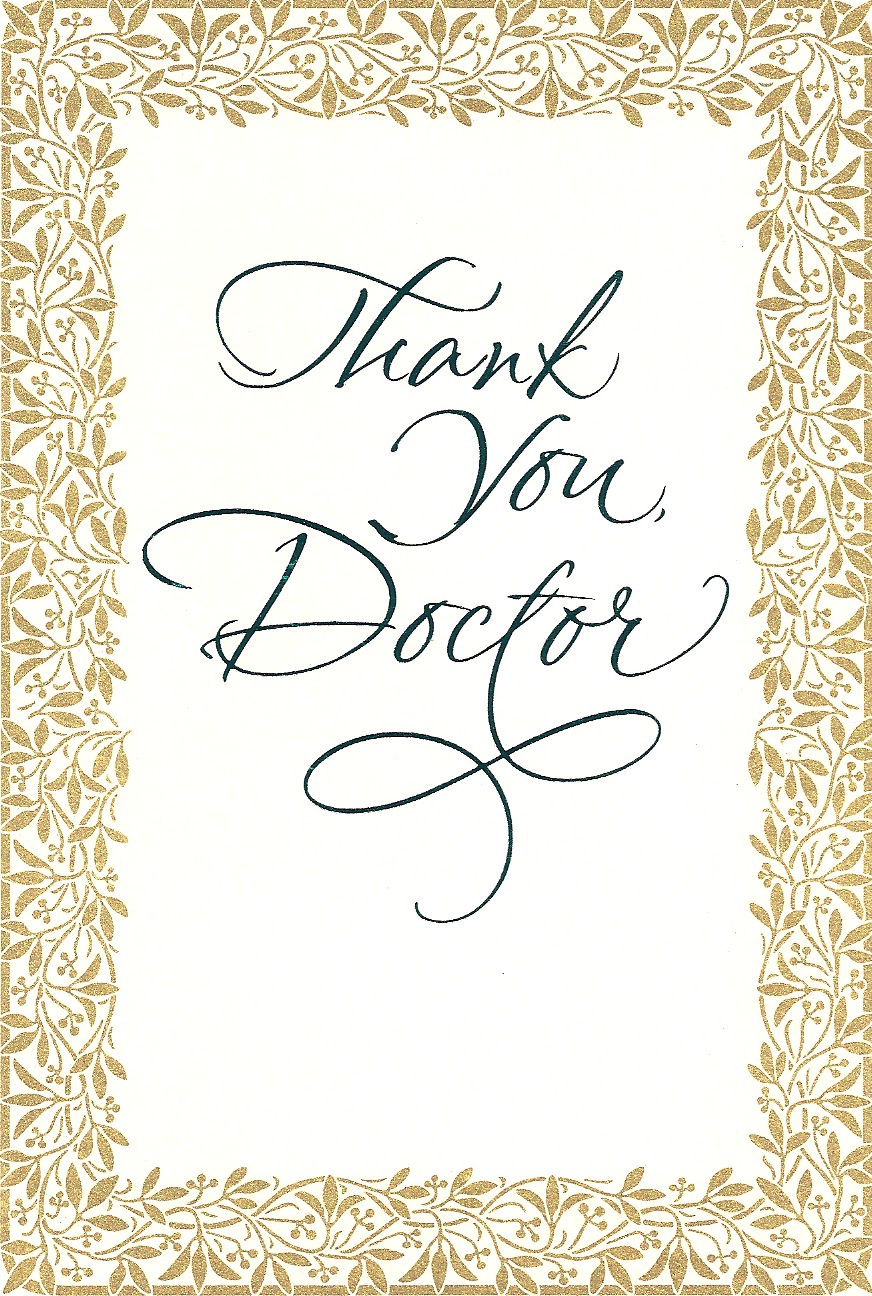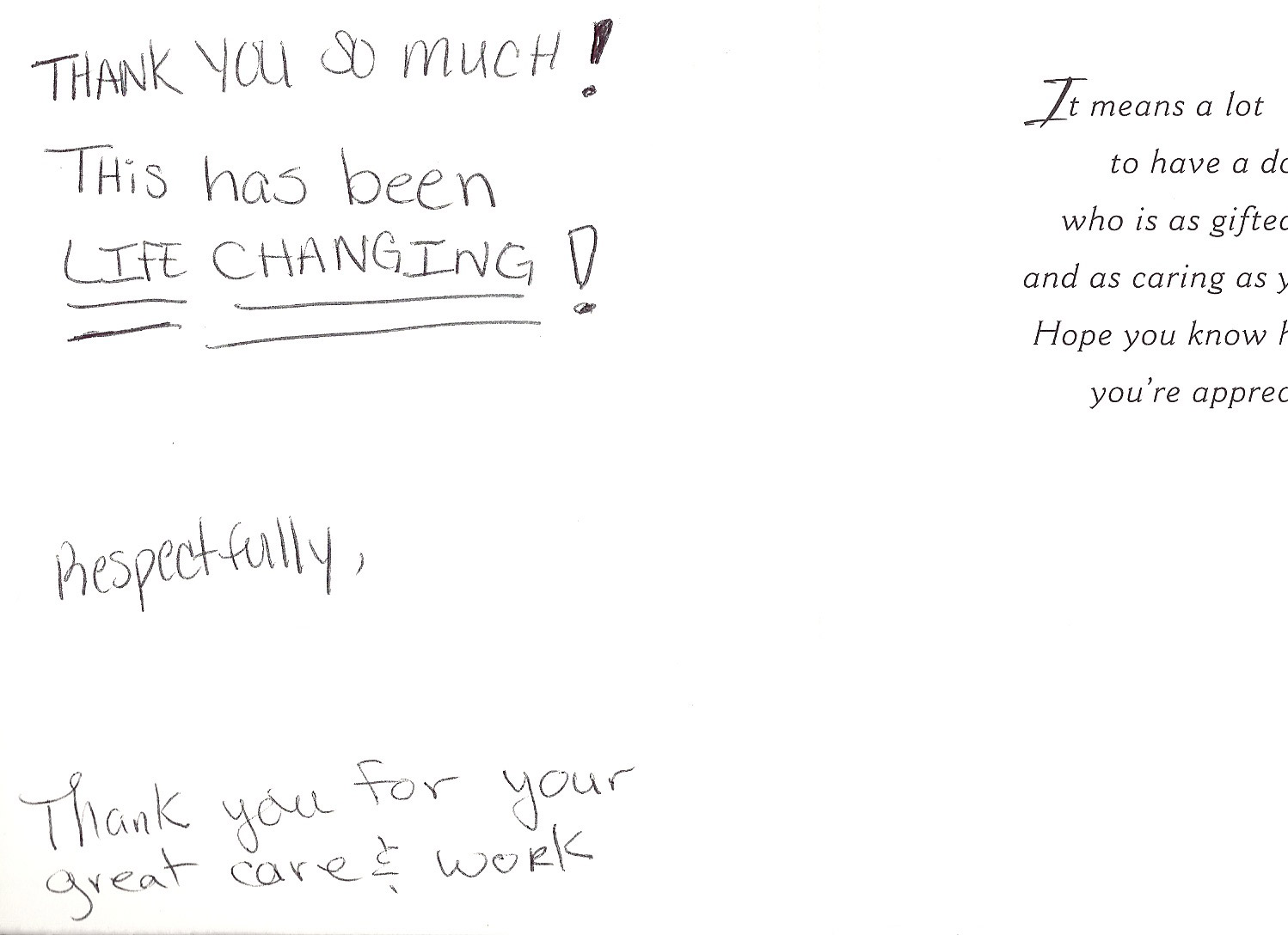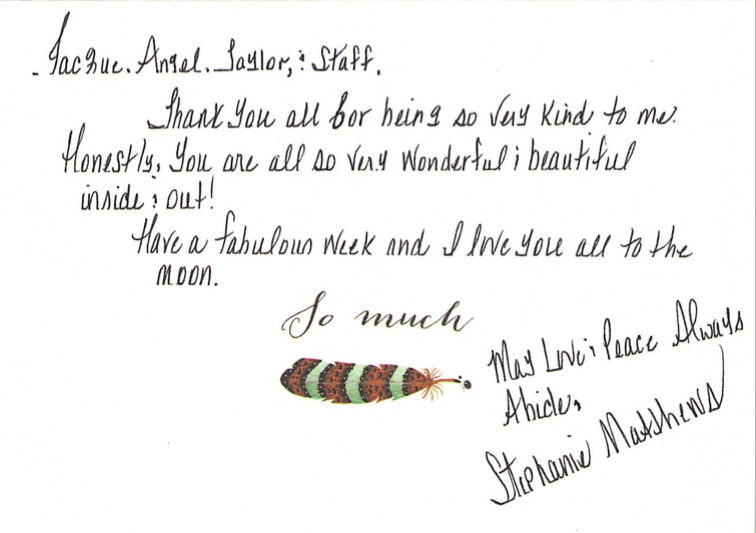 Jacque, Angel, Taylor, & Staff,
Thank you for all being so very kind to me. Honestly, you are all so very wonderful and beautiful, inside and out!
Have a fabulous week and I love you all to the moon.
Love and Peace Always,
-Stephanie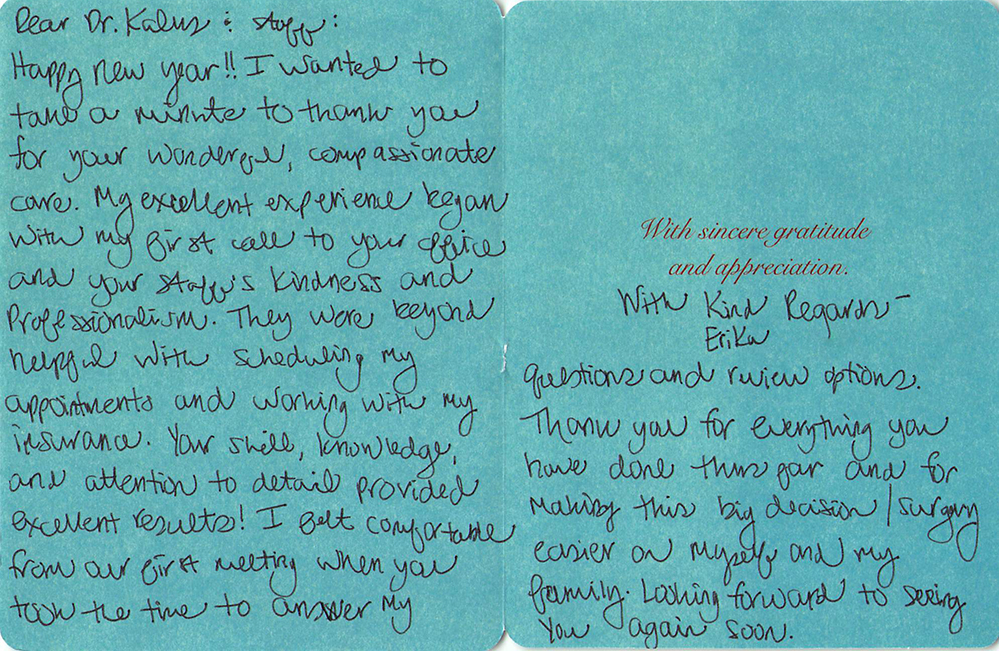 Dear Dr. Kalus & Staff:
Happy New Year!! I wanted to take a minute to thank you for your wonderful, compassionate care. My excellent experience began with my first call to your office and your staff's kindness and professionalism. They were beyond helpful with scheduling my appointments and working with my insurance. Your skill, knowledge, and attention to detail provided excellent results! I felt comfortable from our first meeting when you took the time to answer my questions and review options. Thank you for everything you have done thus far and for making this big decision/surgery easier on myself and my family. Looking forward to seeing you again soon.
With kind regards,
-Erika*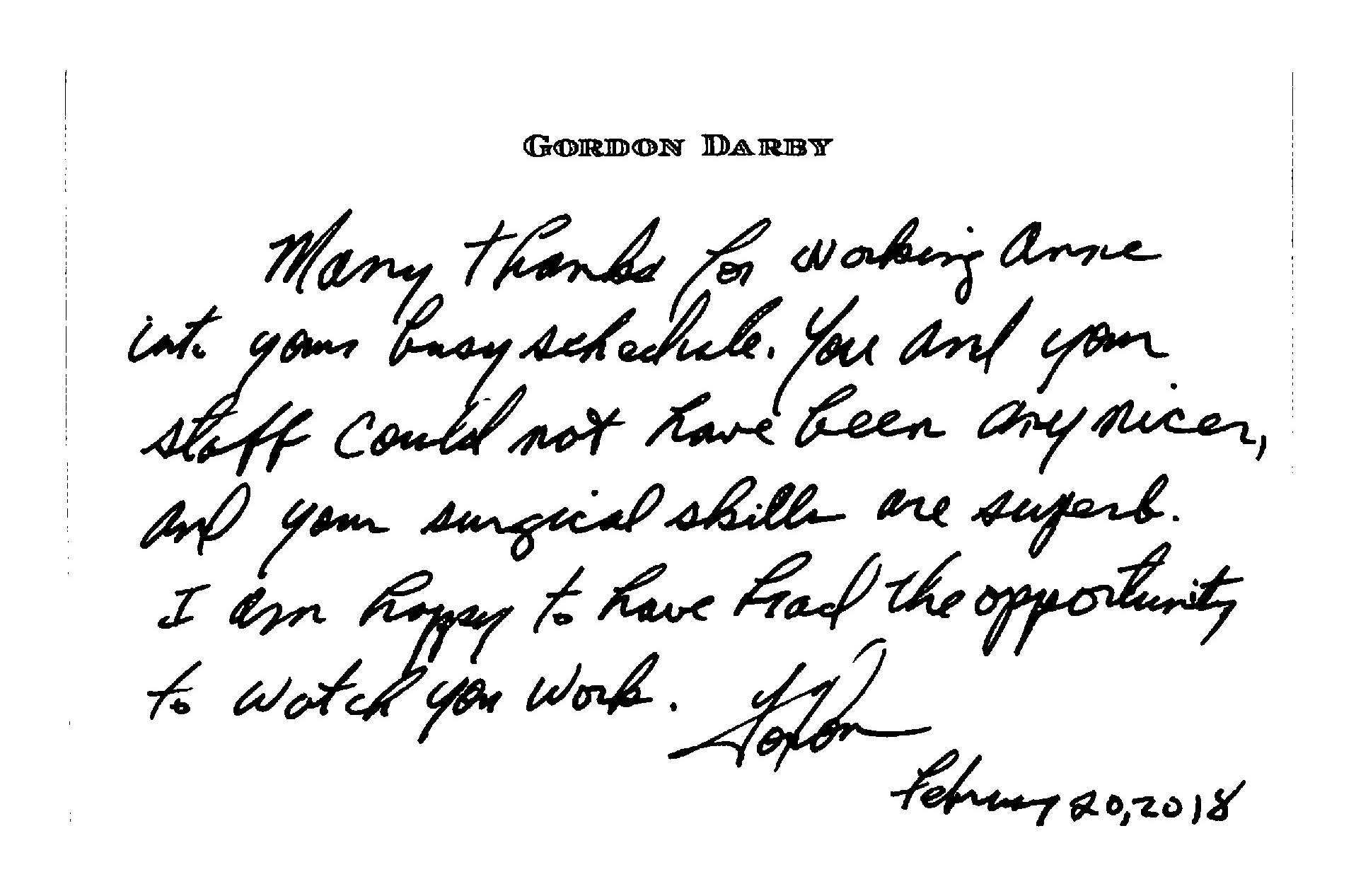 Dr. Rowin,
Many thanks for working Anne into your busy schedule. You and your staff could not have been any nicer, and your surgical skills are superb. I am happy to have had the opportunity to watch you work.
- Gordon
February 20, 2018,
I've only had a consultation so far but the office was beautiful. Dr. Kalus made me feel comfortable and the team was incredibly nice. I got the right feeling from them and booked my surgery that very day.
*Individual results may vary.
October is Breast Cancer Awareness Month, a time for people around the world to learn and spread awareness about this... Continue Reading
Plastic Surgery of the Carolinas is thrilled to announce the opening of Shine Medical Spa! We are also excited to... Continue Reading