Glo2Facial

Created by Geneo™, the Glo2Facial is a revolutionary treatment designed to nourish and oxygenate the skin for a smoother and younger-looking complexion. This advanced technique combines gentle exfoliation, deep facial skin rejuvenation, natural skin oxygenation, and ultrasound technology into a single treatment, infusing the skin with key nutrients while improving its tone, texture, and overall appearance. After just one Glo2Facial, patients often achieve exceptional results with little to no downtime at all.
What Can the Glo2Facial Do?
The Glo2Facial can rejuvenate and revitalize the skin for a more youthful complexion. Safe for any skin type, this advanced treatment can:
Hydrate, plump, and revitalize the complexion
Restore skin volume
Improve skin tone and texture
Produce a youthful radiance
Refresh a dull complexion
Minimize fine lines, wrinkles, and pores
What Does the Glo2Facial Treatment Involve?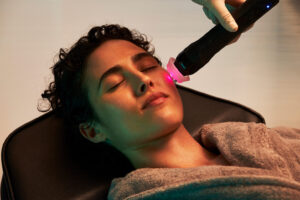 To begin treatment, the skilled aestheticians at Plastic Surgery of the Carolinas will apply Geneo™ OxyPods to exfoliate the upper layer of facial skin. The solution can be adjusted based on your skin care preferences (e.g., whether you wish to combat oily skin, improve skin texture, or some combination of aesthetic goals). The pods create CO2-rich bubbles with detoxifying ingredients, which serve to hydrate the skin and renew its internal oxygen. This step can provide a significant oxygen boost and increase skin metabolism and capillary flow.
During the next step, your provider will use a small handheld device to apply ultrasound technology to the treatment area. This encourages the skin to more deeply absorb the key skin nutrients provided by the OxyPods. The treatment concludes with a gentle, hands-free lymphatic massage, which can effectively reduce any lingering redness or puffiness.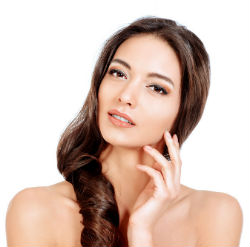 Following the Glo2Facial, there is usually no downtime or recovery necessary. In fact, many patients come in to receive treatment on their lunch break and are able to return to work and/or daily activities immediately afterward. A "flushed" appearance may be apparent for individuals with sensitive skin, but this should resolve quickly. Unlike many other non-invasive facial treatments, results from the Glo2Facial are typically seen immediately, and the rejuvenative effects are cumulative.
To learn more about the Glo2Facial, or if you would like to schedule a consultation with one of our aestheticians or board-certified plastic surgeons, please contact us today.