Laser Treatments
At Plastic Surgery of the Carolinas, board-certified plastic surgeons Craig Rowin, MD and Ram Kalus, MD are committed to offering the latest advances in both surgical and non-surgical cosmetic enhancement. Our state-of-the-art laser treatment options can help significantly improve the tone and texture of your skin while reducing lines and wrinkles, hyperpigmentation, acne scars, sun damage, vascular lesions, excessive hair, and various other aesthetic concerns you may have about your skin. As non-surgical procedures, these effective skin rejuvenation treatments often take less than an hour to complete and generally require little to no downtime or recovery. The laser treatments available at our practice include:
M22™ from Lumenis®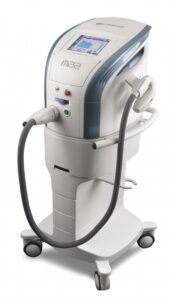 M22™ is an innovative, multi-application laser platform capable of treating more than 30 skin conditions and concerns. Developed by Lumenis® – an Israeli-based global leader in minimally invasive aesthetic solutions – M22™ can be outfitted with three different laser modules, enabling our team to employ the most effective option based on the specific issue(s) being targeted.
These three modules include:
Universal IPL – This Intense Pulsed Light (IPL) module uses photorejuvenation to treat vascular and pigmented lesions, unwanted hair, and several other indications on the face and body. With Optimal Pulse Technology (OPT™), the Universal IPL laser offers precise treatment with enhanced comfort and control.
MultiSpot™ Nd:YAG – This Nd:YAG module is the only laser procedure of its kind with multiple sequential pulsing, a component that increases the efficacy and safety of treatments by allowing targeted tissues to cool between pulses of light energy. The MultiSpot™ Nd:YAG laser can be excellent for the treatment of leg veins and vascular lesions.
ResurFX™ – This skin resurfacing module utilizes fractional, non-ablative laser energy to help reduce uneven pigmentation, lines and wrinkles, age spots, sun damage, and skin laxity for a rejuvenated overall appearance. With the proprietary CoolScan™ scanner, the ResurFX™ laser treatment can be customized for enhanced safety and comfort throughout the procedure. Additionally, only one pass over the skin is generally needed for the technique to be effective, helping to reduce treatment time while optimizing skin protection.
Laser Hair Removal with M22™
In addition to providing state-of-the-art skin rejuvenation, the extremely versatile M22™ device is also celebrated for its ability to deliver safe and precise laser hair removal. Equipped with customizable settings and built-in cooling properties, the M22™ can dramatically reduce the appearance of unwanted hair on the face, back, arms, and elsewhere.
AcuPulse™ Fractional CO2 Laser Skin Resurfacing from Lumenis®

The AcuPulse™ MultiMode™ SuperPulse™ CO2 Laser is an inclusive ablative resurfacing workstation that features ten different treatment modes for optimal versatility. This advanced laser option is designed to enhance comfort and safety while minimizing the risk of any potential side effects. By selecting the appropriate scanner and treatment depth, our aesthetic professionals can use AcuPulse™ CO2 laser resurfacing to effectively improve:
Lines and wrinkles
Sun damage
Acne scars
Uneven skin texture
Hypo- and hyperpigmentation
Actinic keratosis
Various lesions
Hypertrophic or thickened surgical scars
Lumenis® PiQo4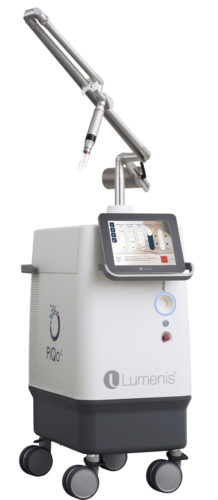 The Lumenis® PiQo4 is a groundbreaking resurfacing laser designed to shatter pigmentation in the skin, giving patients a highly effective treatment option to remove dark spots, tattoos, hyperpigmentation, acne scars, and sun damage, among other skin conditions. Using photoacoustic fractional energy, the Lumenis® PiQo4 can restore a bright, even skin tone while stimulating the production of new collagen for all-encompassing rejuvenation.
AviClear™
The innovative AviClear™ treatment can dramatically enhance the skin's quality after only a few 30-minute sessions. A product of Cutera, AviClear™ is the first laser procedure that can address acne "at its source;" in other words, the treatment uses light energy to suppress the sebaceous glands' production of sebum, which is the oily substance that can form on our skin to cause acne. Amazingly, this non-surgical procedure is capable of combating even severe acne and preventing future breakouts when the patient attends consistent AviClear™ sessions
Recovery and Results from Laser Treatments
Following laser treatments, most patients can expect some mild swelling and redness in the targeted region, though these side effects should subside relatively quickly. Any potential tenderness and/or discomfort can typically be managed with medication, and most patients are able to return to their normal routines and activities within a few days, if not immediately. It is important to note that every individual heals differently, so recovery and downtime will ultimately depend on the specific laser procedure administered, as well as your body's unique healing process. Similarly, results from your procedure will be unique to your skin type, and a series of multiple sessions may be necessary to achieve – and maintain – long-lasting outcomes. We will be able to provide you with more personalized details about what you may be able to expect in regard to recovery and results at the time of your consultation.
Contact Our Office
If you are interested in laser treatment and would like to schedule a consultation, please feel free to contact Plastic Surgery of the Carolinas today.