Laser Hair Removal
What Is Laser Hair Removal?
Laser hair removal is a popular cosmetic skin rejuvenation procedure that can provide significant reduction in unwanted hair on the face, arms, back, bikini area, and other regions of the body. During treatment, the melanin in the skin absorbs the light emitted from the laser as heat, weakening the hair follicles and inhibiting further growth.
Our team at Plastic Surgery of the Carolinas proudly utilizes the state-of-the-art M22™ laser from Lumenis® for hair removal. By employing this multi-application device, we can help you achieve your ideal aesthetic in as few as three quick, non-invasive treatment sessions.
What Are the Benefits of Laser Hair Removal?
In the hands of an experienced aesthetician, laser hair removal with the M22™ laser can offer the following benefits: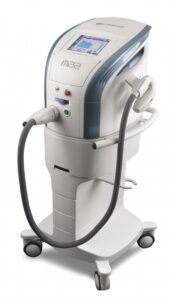 Removal or reduction of unwanted hair from multiple areas of the body
A highly accurate laser application process that is safe on the surrounding skin
Customizable laser energy settings
A cooling feature to enhance patient comfort
Quick treatment sessions that generally require little or no downtime
Developed by Lumenis®, a world-renowned Israeli laser manufacturer, the M22™ is celebrated for being gentle, versatile, and extremely precise. The M22™ is equipped with three different modules—the ResurFX™, the MultiSpot™ Nd:YAG, and the Universal IPL—and it can address more than 30 skin concerns, including unwanted hair, uneven pigmentation, and age-related skin laxity. The laser's adjustable settings enable it to target areas of various sizes, including those that may be harder to reach.
Am I a Candidate for Laser Hair Removal?
Candidates for laser hair removal typically have thick, noticeable hair on areas such as the chin, upper lip, underarms, and legs. While the procedure can be effective for patients of all skin tones and hair colors, a high contrast between dark hair and fair skin typically produces the most dramatic results.
If you would like to determine whether you are eligible for laser hair removal, we encourage you to schedule a consultation at one of our Charleston med spa locations. Our aestheticians can create a personalized treatment plan after a thorough examination of your needs and goals.
What Does Laser Hair Removal Treatment Entail?
During your laser hair removal procedure, you will be given goggles to protect your eyes. As your aesthetician moves the device over the treatment area, you may feel a slight warming sensation, but the M22™ laser's built-in cooling properties should keep you comfortable throughout the process. You may also be given a topical anesthetic to further enhance your comfort during the procedure.
Since hair grows in cycles and laser hair removal is generally most effective during the initial growth (anagen) phase, we usually advise patients to undergo at least three to six laser hair removal sessions. By repeating the process several times over the course of a few months, your technician can help ensure that all of the hairs in the treated area(s) are targeted during their growth phase at least once. While the procedure does not usually result in permanent hair removal, the treated hair is typically reduced so greatly in size that it becomes virtually invisible.
What Does Recovery from Laser Hair Removal Involve?
Laser hair removal with the M22™ does not usually warrant an extensive recovery, and most patients are able to return to work or daily activities immediately. You may experience slight irritation, swelling, or redness around the treated area(s), but these effects should not last longer than a few days. Certain patients may notice soreness or tingling, both of which can often be mitigated with over-the-counter pain medications. Our aestheticians can provide personalized aftercare instructions for you to follow during recovery.
How Much Does Laser Hair Removal Cost?
At Plastic Surgery of the Carolinas, the final price of laser hair removal with the M22™will depend on a number of factors, such as:
The number of areas being treated
The size of the treatment area(s)
The number of sessions needed to achieve optimal results
We can provide you with a personalized cost estimate based on the details of your laser hair removal treatment plan during your consultation. If you are interested in paying for your care in installments, we accept financing through CareCredit®, a third-party healthcare lender offering a number of flexible arrangements for eligible applicants.
For more information about laser hair removal or our other advanced cosmetic treatments, contact Plastic Surgery of the Carolinas today.