TriPollar®

Developed by Pollogen®, TriPollar® is a state-of-the-art treatment designed to nonsurgically rejuvenate skin and delicate areas of the face and body using radiofrequency (RF) energy. Due to the system's proprietary 3rd generation RF technology, TriPollar® treatments are exceptionally efficient, enabling patients to achieve smoothing, contouring, and firming effects. In addition, there is little to no discomfort or downtime associated with the procedure, and results tend to be long-lasting.
What Can TriPollar® Treatments Do?
TriPollar® can be used to target various regions of the face and body, helping to tighten loose skin and remove unwanted fat, resulting in a revitalized, more youthful-looking aesthetic. Based on the unique needs and/or desires of the patient, TriPollar® treatments can be customized to help:
Minimize facial lines and wrinkles
Tighten loose skin in the neck, tummy, arms, or thighs
Diminish stubborn pockets of fat
Contour and enhance body curves and features
Improve the appearance of cellulite and stretch marks
The TriPollar® Procedure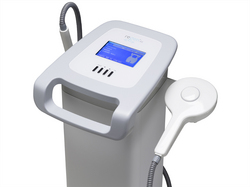 During this nonsurgical treatment, the expert staff (aestheticians) at Plastic Surgery of the Carolinas will use TriPollar® technology to deliver controlled radiofrequency energy into targeted area(s) of the face and body, while your skin temperature is monitored by an infrared camera. Depending on the treatment location and specific concern being addressed, this regulated energy can be focused into the skin's dermal layer and/or underlying fat layers. When facial skin is being targeted, the heated RF energy works to contract existing elastic fibers—such as collagen and elastin—while stimulating the growth of new collagen for a gradual tightening and smoothing effect. For unwanted fat deposits on the body, the thermal RF energy helps shrink down fat cells, resulting in an improved, contoured look in the targeted region. This deep heating effect can also help to diminish the appearance of any cellulite and/or stretch marks that might be present.
Unlike former 1st and 2nd generation RF technologies that required high amounts of energy to heat targeted skin layers, along with a grounding pad and conducting gel, the 3rd generation TriPollar® system is able to warm specific tissues with an optimal level of comfort and efficiency without the need for either. In fact, the relatively low power necessary during the procedure eliminates the need for any cooling mechanism and allows for a more comfortable treatment experience than ever before.
Following treatment, some initial swelling and/or redness can be expected, though these symptoms are minimal and very temporary. Patients experience no pain or discomfort during or after the procedure, and to the contrary, most report a pleasing sensation like that of a hot stone massage. Patients can resume normal daily activities immediately including exercise. For the optimal results, Dr. Craig Rowin and Dr. Ram Kalus—our board-certified plastic surgeons—recommend a series of six to eight Tripollar® treatments a week apart.
Contact Plastic Surgery of the Carolinas
For more information about TriPollar®, or if you are interested in scheduling a consultation at our practice, please contact Plastic Surgery of the Carolinas today.