Lumenis® PiQo4: Dark Spot and Tattoo Removal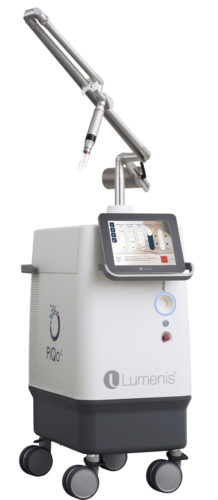 Whether unwanted tattoos, unfavorable scarring, or dark spots from sun damage are keeping you from the skin you desire, our medical team understands that hyperpigmentation and other skin imperfections can cause significant insecurity. Although many men and women believe these pigmentation flaws are permanent, there is hope—our plastic surgeons, Drs. Craig Rowin and Ram Kalus, are thrilled to offer patients skin rejuvenation using powerful PicoFractional laser technology. This treatment is designed to restore a bright, even skin tone with the state-of-the-art Lumenis® PiQo4, a resurfacing laser that uniquely combines Nano and Picosecond pulses to shatter particles of unwanted pigment.
What is PicoFractional Skin Rejuvenation?
The Lumenis® PiQo4 powers PicoFractional skin rejuvenation, a non-surgical treatment that draws upon photoacoustic fractional laser energy to erase pigmentation while improving the tone and texture of the skin. By using "high energy"—technology that can convert light energy into acoustic waves via short laser pulses—to shatter pigmentation, the following skin conditions can be improved or eliminated completely:
Tattoos
Sun damage
Age spots and brown spots
Pigmented lesions
Acne and surgical scars
Fine lines and wrinkle
How is Treatment with the PiQo4 Laser Performed?
PicoFractional skin rejuvenation is performed in our treatment rooms at Plastic Surgery of the Carolinas. Your treatment will be customized according to your needs and the nature of pigment removal. During the resurfacing procedure, the Lumenis® PiQo4 handpiece is guided along the targeted areas of pigmentation. As the laser emits photoacoustic beams of sound energy, the body's natural healing response is initiated and the skin will begin to regenerate. You may hear a popping noise and the skin may begin to feel tight; most patients describe the sensation as the feeling of a light sunburn. In addition to shattering the particles of pigment, the PicoFractional laser will also stimulate new collagen production for a tighter and smoother appearance to the skin. Depending on the surface area of the treated region, one Lumenis® PiQo4 session typically takes 30 minutes to an hour.
Lumenis® PiQo4 for Tattoo Removal
Lumenis® PiQo4 has proven to be a cutting-edge treatment choice for tattoo removal. Unlike other laser skin resurfacing treatments, the Lumenis® PiQo4 employs non-thermal energy and can therefore treat darker skin tones. This laser uses four wavelengths to affect the broadest spectrum of pigmentation, targeting hues that range from light orange to dark black. Simply put, the Lumenis® PiQo4 is capable of eliminating the entire rainbow of tattoo colors.
What are the Results of PicoFractional Skin Treatment?
There is generally no downtime after treatment, but it is common to experience redness for a few hours after PicoFractional skin rejuvenation. If your session was particularly extensive, reactions like redness, swelling, or a temporary darkening of the treated area(s) may last two to four days. A visible improvement in pigmentation should be noticeable as the skin begins to heal. Depending on which concerns were targeted, the pores should appear smaller and dark spots or tattoos should be lighter. The best results can be achieved by undergoing three to five Lumenis® PiQo4 sessions spaced two to six weeks apart. A member of our experienced aesthetic medical team would be happy to advise you on the most ideal treatment plan for your needs. After all PicoFractional skin treatments have been completed, patients should experience a powerful lightening or complete eradication of the targeted tattoos/pigmentation concerns.
Our practitioners can help you non-surgically remove skin imperfections and achieve a smooth, even skin tone. If you have any questions, please contact Plastic Surgery of the Carolinas to speak to a member of our team.