How Breast Shape and Nipple Position Factor into Breast Augmentation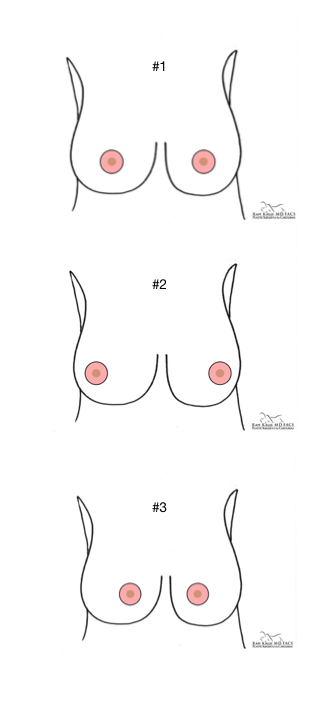 Many women are not necessarily looking for larger breasts when seeking breast enhancement, but rather a prettier shape. Perhaps they feel their breasts have too much droop, or their nipples are not where they want them to be. This is when understanding breast proportion and aesthetics is so important. This free hand drawing below demonstrates three identical line drawings of breasts.
The only difference between versions 1, 2 and 3 is the nipple position relative to the breast. #1 and #2 are both considered variants of normal and can be deemed attractive by most women. Whereas #3 looks peculiar. These aspects of a woman's breasts are critical in planning a breast augmentation. If breast implants are placed too close together, you can be made to go from #1 to #2. If an implant is too wide and placed too far outwardly in the breast, you can be made to appear more like #3.
If you would like to learn more, please email us at info@plasticsurgerycarolina.com. If you have concerns about breast shape or size, and have been considering breast augmentation, breast lift or breast reduction surgery, feel free to browse through our website to learn more. To schedule an appointment with Dr. Kalus or Dr. Rowin, please contact us at 843-881-3881