Breast Implants
Today there are more breast implant options for breast augmentation than ever before. Implants can be textured or smooth, round or anatomic (shaped), saline filled or silicone gel filled, and are available in all sizes and degrees of projection and width to accommodate each woman's unique anatomy, needs, and desires for enhancement.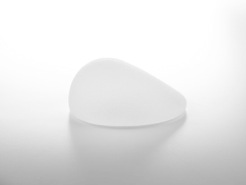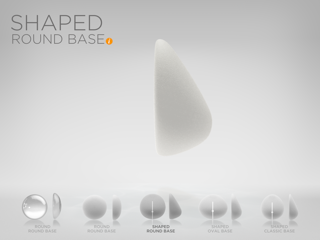 Breast Implant Types
Following a thorough examination and discussion, Dr. Ram Kalus will recommend the type of breast implant most appropriate for you. Silicone implants contain an elastic cohesive silicone gel that feels much like a natural soft breast. This gives patients both a more natural look and feel. The FDA has approved the use of silicone implants as safe both for cosmetic augmentation in women 22 years old and older, and in reconstruction. However they may also be used for younger women whose breasts may have developed with asymmetry or other abnormalities. By far, the most commonly used breast implant is a smooth round implant, either silicone gel filled or saline filled and, with proper size selection, will usually result in a very pretty enhancement for most women. The reason this seems to be a popular choice for women is that a smooth round implant will move slightly with a woman's breast, more accurately resembling the behavior of the natural breast.
Anatomic (Shaped) Breast Implants
Anatomic Breast Implants, otherwise known as Shaped Breast Implants or "Gummy Bear" contain a cohesive gel that is form stable and keeps its teardrop shape. These implants have been in worldwide use for nearly 15 years and have recently been FDA approved and are now available for cosmetic breast surgery, or for breast reconstruction. Anatomic implants or shaped implants have been preferred by many European and South American plastic surgeons because of their ability to achieve a more natural upper breast pole without an overdone artificially round appearance to the breast that can often be a clear sign that there is an implant in the breast, a look that most women would like to avoid whenever possible. The anatomic breast implants or shaped breast implants may, however, feel slightly firmer than a round smooth device.
Who Might Benefit From a Shaped Implant?
There are three categories of patients who might benefit from an anatomic shaped implant over a conventional round implant:
A woman undergoing breast reconstruction after mastectomy may prefer a less round look that a conventional round implant may provide.
The woman who is very small breasted with little or no shape to her breast.
The woman who is small breasted but has some ptosis or sagging, but would like to avoid a breast lift or mastopexy. Because the anatomic implants have a textured surface rather than a smooth surface, they can be more effective in correcting mild sagging or drooping, and therefore help avoid the need for extra scars that might result from a breast lift procedure.
Memory Gel Breast Implants Video
Contact Plastic Surgery of the Carolinas
For more information on breast implants, or if you would like to schedule a consultation with Dr. Kalus, please contact Plastic Surgery of the Carolinas.