Breast Enhancement Surgery— In the Summer?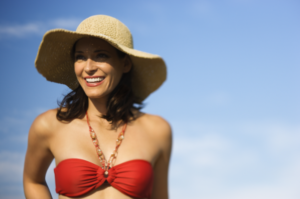 Why is the summer as good a time as any for breast enhancement surgery? Well, unlike the face or other parts of the body (arms, legs, etc.), the breasts remain relatively unexposed. Whether you are considering breast augmentation, a breast lift (or both), or breast reduction, summer is an excellent time for breast surgery. In most cases, you can be bathing suit-ready within a couple of weeks. Within four weeks, you can return to a full complement of normal activities, including exercise, swimming, and tennis. However, any such surgery should only be performed by a board-certified or board-eligible plastic surgeon.
Breast Reduction: Large, heavy, and often pendulous breasts can affect women and girls from adolescence onward. The symptoms caused by large breasts often include neck, back, and shoulder pain. Bra straps tend to dig uncomfortably into the shoulders, making it quite challenging to find bras and certain clothing. This surgery is often covered by most insurance plans, and recovery is generally 7-14 days. These patients are among the happiest and often feel as though they have a new lease on life.
Breast Augmentation: Most women are familiar with breast implants and the previous concerns regarding the safety of silicone gel-filled implants. In 2006, after many years of careful study, the FDA declared all breast implants entirely safe. Today, there are more implant options than ever before. All breast implants have an outer shell made of silicone, and can be filled with either saline (salt water) or silicone gel. There are also different degrees of gel firmness, from very soft to somewhat firmer.
Saline implants are adjustable and filled at the time of surgery to the desired final volume, but may have more of a "bag filled with water" feel when compared to silicone implants. A newer saline-filled implant called IDEAL® has the feel of silicone gel, but is still entirely saline-filled and adjustable. Determining which size would be optimal for you is based on both a discussion of your wishes and a careful in-person evaluation. Photographs of what you hope to look like are extremely important in achieving your desired final outcome, and using our unique functionality at www.WhatSizeShouldibe.com can be very helpful.
Breast Lift ("Mastopexy"): Some women are satisfied with their breast size, but may feel as though their breasts are too "droopy" or "saggy." Additionally, women who feel their breasts are too large can opt for a breast reduction, which generally also includes a breast lift. If a patient is concerned with her breasts appearing both small and "droopy", a lift and an augmentation can be combined into one operation.
For more information, please visit our plastic surgery center in Charleston. You can also contact our practice by emailing info@plasticsurgerycarolina.com, or calling 843-881-3881.