4 Things to Consider Before Breast Reconstruction Surgery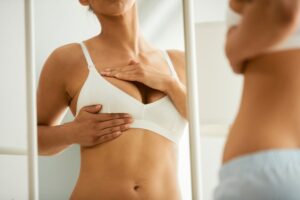 While there are a variety of ways to treat breast cancer, many women may find that a mastectomy can be an optimal treatment option for them. Oftentimes, these patients may also benefit from breast reconstruction surgery, a procedure designed to restore the breast to a natural-looking shape, size, and overall appearance after mastectomy. When performed by an experienced surgeon who understands the personal nature of this treatment, breast reconstruction surgery can produce beautiful results and improve the confidence of breast cancer patients.
At Plastic Surgery of the Carolinas, we approach each breast reconstruction candidate with compassion. Because the decision to undergo breast reconstruction can be very personal, we encourage patients to conduct thorough research and communicate transparently with their doctors before pursuing the surgery. We also advise you to keep these informative tips in mind:
Be aware that your breasts may not look exactly the same as before your mastectomy.
The goal of breast reconstruction is to help recreate the look of the breast after a mastectomy; however, restoring the exact appearance of your former breast sometimes simply isn't feasible. This can be a result of damage caused by cancer, the particular condition of your breast, the outcome of surgery, and other factors. Rest assured that we will carefully discuss your cosmetic goals, as well as any risks that may be applicable to you, during your consultation in order to give you a realistic idea of what the results may be.
Be prepared for more than one operation.
Patients interested in breast reconstruction should be aware that the procedure is often a multistep process. The entire treatment may include more than one surgical procedure since it typically involves increasing breast size, contouring the breast, lifting the breast, nipple reconstruction, and more. To keep you fully informed, Dr. Rowin or Dr. Kalus can go over these options and how many surgeries to expect during your consultation.
Understand that recovery may be lengthy. 
Especially when more than one operation is necessary, recovery from breast reconstruction surgery can take several months. You will likely need time off of work to account for surgeries and periods of downtime, and we typically suggest you refrain from strenuous activities for around six weeks following the procedure. We are able to answer any questions you may have about the breast reconstruction healing process when you come in for your consultation.
Choose an experienced surgeon.
Finally, it is imperative that you select your breast reconstruction surgeon wisely. We strongly recommend you research your prospective surgeon to determine if they have sufficient experience and education. It is oftentimes most beneficial to choose a board-certified plastic surgeon, as certification with the American Board of Plastic Surgery (ABPS) signifies that your surgeon has received the required training and proper education. Not only that, but we also recommend you select a surgeon with an extensive record of successful breast reconstruction surgeries. You can often get a sense of their bedside manner and surgical style by exploring their before-and-after photos and reading their patient testimonials.
If you decide to move forward with breast reconstruction surgery, rest assured that our surgeons will be by your side throughout the whole process and will aim to produce the most natural-looking results possible. Our surgeons are happy to help you make the optimal decision for your needs and aesthetic goals. Please don't hesitate to schedule a consultation with our team today.