Physical and Psychological Benefits of Male Breast Reduction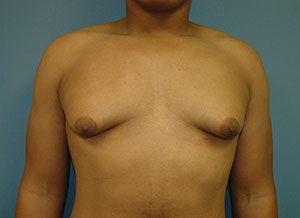 Our board-certified plastic surgeon, Dr. Ram Kalus, discusses the benefits of surgical treatment for gynecomastia, a very common condition affecting men across a range of ages.
Men and boys who have excess fat and/or tissue in the breasts may be suffering from a condition referred to as gynecomastia. For younger males in particular, this common problem can be a major source of stress and embarrassment. Locker rooms, swimming pools, and the beach—normal aspects of many boys' lives—turn into traumatic situations, as boys and young men struggling with gynecomastia may become subjects of ridicule and bullying. Many younger individuals who have gynecomastia are reluctant to discuss this issue openly with their parents, and instead can become socially withdrawn, develop problems at school, or even experiment with drugs or alcohol as a coping mechanism.
Male breast reduction surgery can remove excess breast tissue in boys or men from age 12 to adulthood. Though younger patients tend to heal faster after the procedure than adults, there are physical and psychological advantages to male breast reduction regardless of the patient's age. While gynecomastia can frequently be seen in overweight patients, it is also common for males with normal body weight to suffer from this condition. Since breast tissue does not solely consist of fat, exercise and procedures such as standard liposuction will not produce adequate results. My goal with any male breast reduction procedure is to shape the chest so that it is in proportion to the rest of the body, as well as to minimize the appearance of scarring since the male chest is often exposed in public situations. After the procedure, my patients typically feel a tremendous boost in their confidence and self-esteem.
To learn more about Dr. Ram Kalus and Plastic Surgery of the Carolinas, please contact our office today.