Open Vs. Closed Rhinoplasty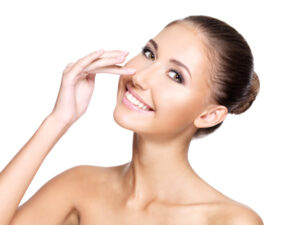 The nose is the central focal point of the human face. When we converse with one another, our eyes invariably and subconsciously drift between the eyes, the nose, and the lips. Because the nose is such a prominent feature of our face, it is critical that the nose not only appear "normal" and natural after rhinoplasty surgery, but also attractive and in proper proportion with the rest of the face.
There are two main approaches to rhinoplasty surgery: "open" and "closed." An open rhinoplasty requires a single "external" incision located across the dividing structure between the nostrils (the columellar). When performed by an experienced plastic surgeon, this incision should heal without a visible scar. In contrast, a closed rhinoplasty is performed by making incisions only on the inside of the nose, specifically within and behind the nostrils.
I typically recommend an open rhinoplasty for most of my patients at Plastic Surgery of the Carolinas because this strategy allows me to exercise the highest degree of precision and control. However, this technique may not be the best option in every case. During the consultation process, I perform a physical examination of the patient and discuss which rhinoplasty approach can best meet the unique needs and aesthetic goals of the individual.
Contact Our Office
If you have questions about how rhinoplasty surgery can help improve the aesthetics or function of your nose, or if you wish to schedule a consultation, please contact us today.