BOTOX® Cosmetic vs. Dermal Fillers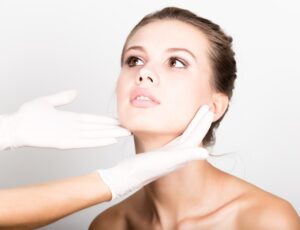 For those looking for non-surgical treatments to improve facial wrinkles or creases, we offer a variety of skin rejuvenation options, including BOTOX® Cosmetic, Dysport®, and an extensive list of dermal fillers. While BOTOX® injections, Dysport®, and select fillers can serve similar purposes, their chemical properties differ considerably. In addition, every patient's experience with these treatments will be unique. We encourage you to thoroughly research all our non-surgical facial rejuvenation options to help you determine which procedure may be right for you.
BOTOX® Cosmetic is specifically designed to relax dynamic wrinkles – in other words, wrinkles that are formed by repetitive facial movements. Forehead lines, crow's feet, and frown lines can all be reduced significantly with BOTOX® Cosmetic. This injectable is made of botulinum toxin (from which its name is derived) that temporarily halts the nerves that allow the facial muscles to contract, which can ultimately reduce signs of wrinkles. It is injected via an ultra-fine needle during treatment sessions. Patients usually need touch-up appointments once every three to four months, depending on their cosmetic goals. Each injection is conducted in a relatively quick procedure and patients are generally able to return to their daily routines immediately. Patients may also consider Dysport® treatment, which is very similar to BOTOX® Cosmetic but has a more diluted concentration that allows the solution to spread more quickly.
Dermal fillers work a bit differently. We offer a wide range of dermal filler product lines, including the Restylane® and JUVÉDERM® brands, each of which features top-of-the-line options for skin rejuvenation. These fillers contain hyaluronic acid–a chemical which occurs naturally in the human body–that can work to smooth out deep creases, restore volume to specific facial features, and address other signs of aging. Similar to BOTOX® Cosmetic, receiving dermal fillers is typically a quick procedure. Many dermal filler products are able to produce results that last longer than BOTOX® Cosmetic, and the effects can be maintained with occasional follow-up injections. With that in mind, BOTOX® Cosmetic may be the more ideal choice for certain concerns, and dermal fillers may be better for others.
As you can see, the functions of both of these options are similar, and each procedure is designed to be safe, quick, and virtually painless; however, there are distinctions between the two that can make one more preferable than the other depending on each patient's needs and goals. Ultimately, patients should consult a professional plastic surgeon to determine which treatment can provide optimal results. We invite you to contact Plastic Surgery of the Carolinas if you have any further questions.