What Is A Mommy Makeover?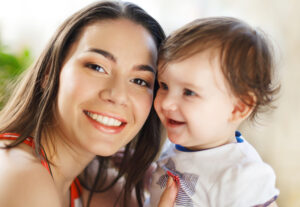 Pregnancy and childbirth can be two of the most joyous occasions in a woman's life. However, the body undergoes many changes during this time that can be difficult to reverse. Even with stringent diets and rigorous exercise, many women struggle to eliminate lingering excess skin and fat in certain areas of the body. In addition, breastfeeding can cause permanent volume loss of the breasts, as well as sagging. At Plastic Surgery of the Carolinas, we offer custom-tailored mommy makeover procedures that can help rejuvenate a woman's body, boost her confidence, and restore her youthful appearance.
A mommy makeover typically consists of a combination of surgical and non-surgical treatments that can be customized to address your unique needs and concerns. An abdominoplasty, commonly called a "tummy tuck," can create a smoother, more toned stomach while simultaneously tightening the underlying abdominal muscles. A breast lift or breast augmentation can reposition the breasts higher on the chest wall or restore lost breast volume. We also offer a range of non-surgical treatments, including injectables, that can reduce the appearance of preexisting facial wrinkles and creases, as well as those that may be caused by the extra stress that can accompany motherhood. Ultimately, being a good mother often requires many sacrifices, and with the help of a mommy makeover, your body doesn't need to be one of them.
– Dr. Ram Kalus, Board Certified Plastic Surgeon
Contact Our Office
For more information about mommy makeovers, or if you wish to schedule a consultation with Dr. Kalus, please contact us today.