ThermiRF™ Skin Tightening

Cleared by the U.S. Food and Drug Administration (FDA), ThermiRF™ is a revolutionary thermal-controlled radiofrequency (RF) generator system that employs RF energy to non-surgically tighten and smooth the skin on various regions of the face and body. At Plastic Surgery of the Carolinas, our plastic surgeons offer ThermiTight™, ThermiSmooth™, and ThermiVa™, each of which is detailed below.
ThermiTight™
ThermiTight™ is a minimally invasive treatment that utilizes ThermiRF™ to improve mild to moderate skin laxity in targeted treatment areas, including around the eyes and various other regions of the face. Prior to the procedure, a small volume of local anesthesia is administered to help minimize – or even eliminate – any potential discomfort that may be experienced. A special ThermiRF™ SmarTop™ device is then inserted under the skin and moved gently around as it delivers a specific degree of heat regulated by the ThermiRF™ system. This temperature-controlled energy can be monitored with Thermal Image Guidance™, ensuring that deeper tissue layers are reached without harming surrounding tissues. Once targeted tissues reach the desired temperature, the skin's natural healing process triggers the production of new collagen, eventually helping to tighten loose skin in the treatment area over the course of three to nine months. The entire procedure generally takes less than an hour to complete, though this may vary depending on the extent of skin laxity as well as the number of areas being addressed.
Following the ThermiTight™ treatment, some minor redness, bruising, tingling, and swelling may be present, but these possible symptoms will subside relatively quickly and should typically not inhibit patients from resuming normal activities within one or two days. Ultimately, the tightening effects of ThermiTight™ generally continue to improve over about nine months as new collagen is produced within the skin. Occasionally, the treatment may need to be repeated to attain optimal results.
ThermiSmooth™
ThermiSmooth™ is a non-invasive application of the ThermiRF™ technology that allows for a painless wand to deliver the necessary heat to the face, including the eyelid areas, to allow for smoothing of wrinkles and improving of skin tone and texture. These treatments require no anesthesia and feel similar to a hot stone massage, and they are generally recommended as packages of three to four sessions performed two to three weeks apart, with perhaps one or two maintenance treatments annually for optimal results.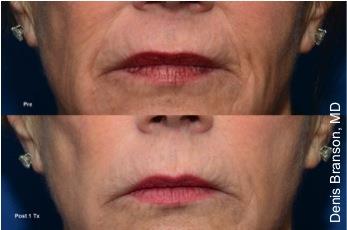 *Individual Results May Vary
ThermiVa™
ThermiVa™ is a female genital application of the same non-invasive ThermiRF™ technology that allows for a wand to be used to deliver radiofrequency heat energy to the labia majora and labia minora for skin tightening, as well as into the vaginal canal to achieve tightening and improved mucosal lubrication. The indications for ThermiVa™ are labial laxity or redundancy, vaginal laxity, mucosal dryness, urinary stress incontinence, and orgasmic dysfunction, all of which can be potentially improved. Treatments can focus on the external genitalia, internal vagina, or both. The entire treatment takes about 15 minutes, is virtually painless, and is generally recommended as a package of three treatments four weeks apart.
*Individual Results May Vary
Contact Our Office
To learn more about all of the skin rejuvenation applications of ThermiRF™, or if you would like information about various other non-surgical skin care treatments available at our practice, please contact us today to schedule a consultation with one of our board-certified plastic surgeons.