Patient Testimonials
Dr. Kalus, Jacquie, & Jennifer,
I can't thank you enough for your care throughout my entire experience at your office. I am beyond pleased with my results and overwhelmed by your patience and kindness. You have my highest recommendation for any new patient.
love,
Melissa*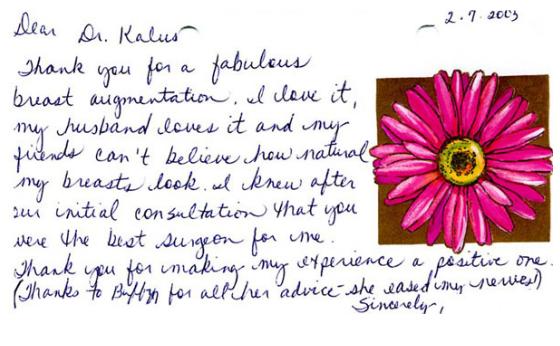 At Plastic Surgery of the Carolinas, we take pride both in the skill of our doctor and in the way we treat our patients. Our goal is not just exceptional results from your surgery or treatment, but an overall positive experience for each person. These two ideas, combined with our commitment to continuing education, have earned us a loyal patient following and a rapidly spreading reputation for excellence. Please read the cards below to see what actual patients have said to us after their treatments here!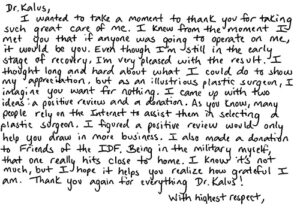 I wanted to take a moment to thank you for taking such great care of me. I knew from the moment I met you that if anyone was going to operate on me, it would be you. Even though I'm still in the early stage of recover, I'm very please with the result. I thought long and hard about what I could do to show my appreciation, but as an illustrious plastic surgeon, I imagine you want for nothing. I came up with two ideas: a positive review and a donation. As you know, many people rely on the Internet to assist them in selecting a plastic surgeon. I figured a positive review would only help you draw in more business. I also made a donation to Friends of the IDF. Being in the military myself, that one really hits close to home. I know it's not much, but I hope it helps you realize how grateful I am. Thank you again for everything Dr. Kalus!
With highest respect,
J.L. – Patient Charleston, SC*

Hi Dr. Kalus, I just wanted to say thank you again for the incredible work you did with my breast augmentation. I'm not sure that I communicated how much I love the results. Seeing them for the first time was a bit of a jolt, but as I continue to become acclimated to them, I'm more able to appreciate how right they are for me. They look very similar to the examples we liked on your "WhatSizeShouldiBE" gallery, and the profile, sizing, etc, are perfect. Thank you so much for being so kind and available during the process and for a job very well done.
– M.E.*

Dear Dr. Kalus, Thank you so much for taking the time to respond to my questions. My husband and I are both thrilled that you will be doing my surgery. We both feel so comfortable with you and your wisdom. We trust you completely to make the best decisions for my body. Thank you so much for being so kind, caring and compassionate with me!!! I'm very blessed to have you on my Surgical Team!!
Sincerely,
– S.F.*

Dear Dr. Kalus,
I just wanted to mention that you are taking excellent care of me!!! My whole family and I agree that deciding to go with you to complete the reconstruction was absolutely the perfect fit for my needs. You have been so patient and kind!!!! THANK YOU SO MUCH for everything!!!!! We are truly grateful!!
I've never had another physician treat me with such kindness. Usually, I am just a number in their assembly line of patients. You shine far above all the rest because I believe you really do care about every single patient that you have!!"
-D.S., Breast Cancer Patient, Mount Pleasant, SC*
Our Eyelid Surgery Patient Testimonial Videos
*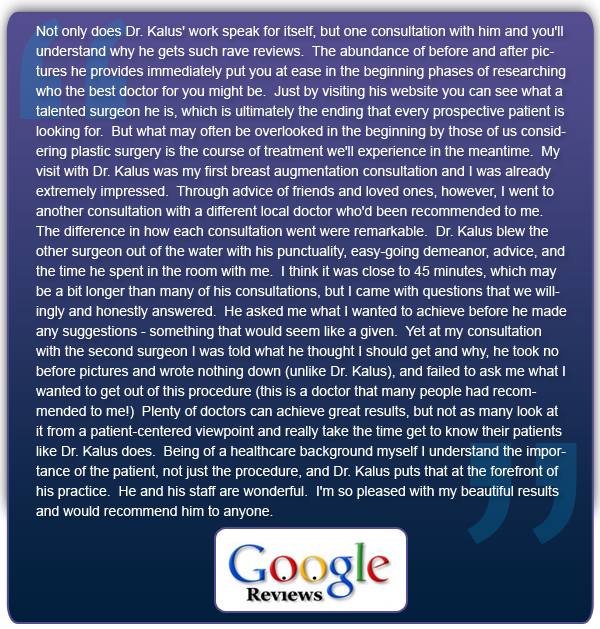 See What Dr. Kalus' Patients Have to Say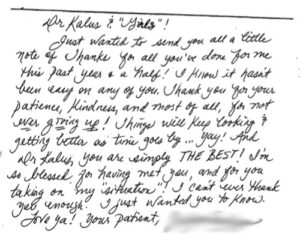 "Dr. Kalus & Girls,
Just wanted to send you all a little note of thanks for all you've done for me this past year and a half! I know it hasn't been easy on any of you. Thank you for your patience, kindness, and most of all, for not ever giving up! Things will keep looking and getting better as time goes by…yay! And Dr. Kalus, you are simply THE BEST! I'm so blessed for having met you, and for you taking on my 'situation'! I can't ever thank you enough. I just wanted you to know. Love ya! Your Patient, J.H.*"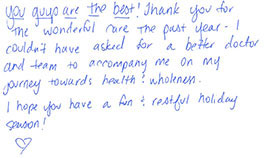 "You guys are the best! Thank you for the wonderful care the past year – I couldn't have asked for a better doctor and team to accompany me on my journey towards health & wholeness. I hope you have a fun & restful holiday season!"
– J.M.*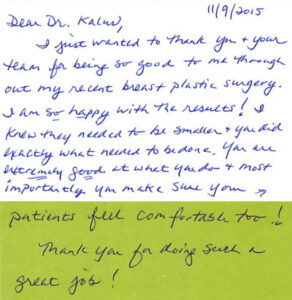 "Dear Dr. Kalus,
I just wanted to thank you and your team for being so good to me throughout my recent breast plastic surgery. I am so happy with the results! I knew they needed to be smaller and you did exactly what needed to be done. You are extremely good at what you do and most importantly you make sure your patients feel comfortable too! Thank you for doing such a great job! Sincerely,"
– S.R.*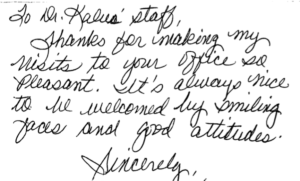 "To Dr. Kalus' staff,
Thanks for making my visits to your office so pleasant. It's always nice to be welcomed by smiling faces and good attitudes. Sincerely,"
– J.H.*
"Dr. Kalus,
This is just a small token to say thank you so much for taking such good care of me during my breast reconstruction. From my first visit you made me feel confident in your attitude and the fact you saw the problem and had a plan. You really put my mind at ease and I knew I was in good hands. I love the way my breasts feel and look now.
Thank you so much,"
– J.H.*
"Dear Dr. Kalus,
There aren't words to express how grateful I am for your expertise, attention to detail, and perfection in my surgery. I am elated and overjoyed with my new body and new body image! You beautifully erased a decade of shame, embarrassment and discomfort for which I am truly grateful. I want to thank you once more for what feels like a brand new life! With heartfelt thanks,"
-C.D.*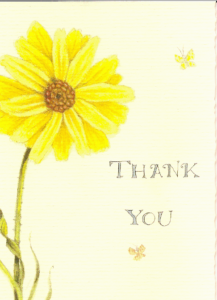 "I cannot thank you enough for your care and compassion during the preparation for my abdominoplasty and after the surgery. I am truly fortunate to have found a Plastic Surgeon of your skill here in Columbia."
– P.S., Abdominoplasty Patient Columbia, SC*
"Dear Dr. Kalus,
I wanted to take a moment to thank you for doing such a wonderful job on my breast augmentation a couple of months ago. This was something I thought about doing for a long time and I'm glad I finally did it. My results are very natural – I look like I did before I had my children and I couldn't be more pleased. So a big thank you to you and your wonderful staff for taking such good care of me!"
– T.P., Mommy Makeover, Columbia, SC*
"Dear Dr. Kalus,
I am just thrilled with the success of my recent liposuction. I was born with a rounded belly that only got worse as I aged. Your surgery flattened my abdomen and gave me the motivation to take better care of myself through diet and exercise."
– L.D., Liposuction Patient Charleston, SC*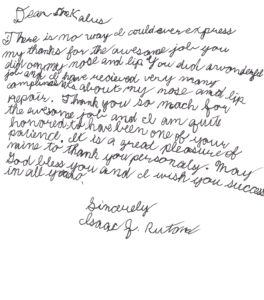 "Dear Dr. Kalus,
There is no way I could ever express my thanks for the awesome job you did on my nose and lip. You did a wonderful job and I have received very many compliments about my nose and lip repair. Thank you so much for the awesome job and I am quite honored to have been one of your patients. It is a great pleasure of mine to thank you personally. May God bless you and I wish you success in all you do.
Sincerely, Isaac. (12 years old, cleft lip repaired at infancy)*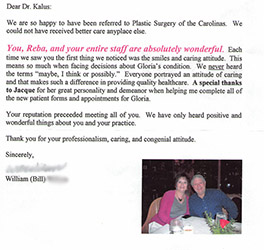 Dear Dr. Kalus,
We are so happy to have been referred to Plastic Surgery of the Carolinas. We could not have received better care anyplace else.
You, Reba, and your entire staff are absolutely wonderful. Each time we saw you the first thing we noticed was the smiles and caring attitude. This means so much when facing decisions about Gloria's condition. We never heard the terms, "maybe, I think or possibly." Everyone portrayed an attitude of caring and that makes such a difference in providing quality healthcare. A special thanks to Jacque for her great personality and demeanor when helping me complete all of the new patient forms and appointments for Gloria.
Your reputation preceded meeting all you. We have only heard positive and wonderful things about you and your practice.
Thank you for your professionalism, caring, and congenial attitude.
Sincerely,
William (Bill)*
After years of research and consideration I finally decided to actually begin the process of what I wanted my ideal breast augmentation to look like. I gathered before and after photos, mainly from the website lovemylook, that I felt looked like me before and represented the result I hoped to see post-op. Imagine my surprise when I researched each photos' performing physician that 8 out of 12 were done by Dr. Kalus! And only 2 hrs from where I live!
My surgery was yesterday and I just came from my follow up appointment. No pain and very little discomfort. Incredible how good I actually feel just 24 hrs later. The results – amazing!! Exactly what I wanted.
From the office staff, to the nurses, the entire staff at Charleston Surgery Center where my surgery was performed, and of course Dr. Kalus – all we're the epitome of professionalism and caring. I am still somewhat in disbelief that this process, that I stressed over for years, was so easy. Thank you sweet ladies and Dr. Kalus!
-L.F., Breast Augmentation Patient*
"Dear Dr. Kalus,
You are such a wonderful person and an extremely talented physician. Thank you for taking care of me and helping me through my procedure. There are no words that I can find to truly express my gratitude and admiration for you. My father said that "you were the best" and only demanded that you were the one to operate on me. It is so clear to me now, why he felt so strongly. May god continue to bless you and your family, for he has blessed me so graciously by bringing your skill, talent, and care into my life. I am very truly yours,"
– N.S., Plastic Surgery Patient Columbia, SC*
"Dr. Kalus,
I wanted to drop you a note to thank you for the impeccable care you and your staff provided me for my recent rhinoplasty. As you know this is the second procedure you have performed for me and as before I am tickled with my results. It truly is still me, only better. I look forward to our continued relationship as doctor/patient & friends."
– J.L., Rhinoplasty Patient Columbia, SC*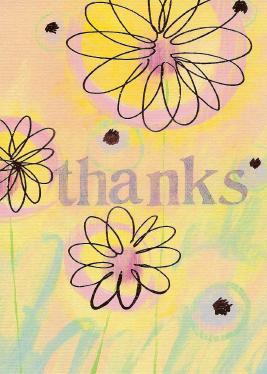 "Dr. Kalus & Staff,
This is to express my gratitude and appreciation for the wonderful care I received from you and your staff. I am very pleased and happy with the outcome. I would recommend your services to anyone looking for a more comfortable living with their body. Thank you again for the wonderful care."
– L.P., Breast Augmentation Patient Columbia, SC*
"Dear Dr. Kalus,
It has been 10 years since you performed my life changing breast reduction.
I have always been so happy with my surgery and have since told numerous other women how it was such a positive experience and such an easy recovery. I know it sounds cheesy but having a reduction surgery truly changed my life for the better- significantly improving my self esteem. Since having it done I began a career working in women's fashion- something I know I would have never had the confidence to do had I not had the surgery.
So truly thank you for making all of that possible! It is so nice to have an opportunity to say thanks to someone who changed my life."
– J.L., Breast Reduction Patient, SC*
"Dr. Kalus,
Thank you so much for your excellent work. Your calm demeanor immediately put me at ease, and the whole surgery experience was way better than I ever imagined. My new chin and chest are absolutely perfect. You are the best!"
– D.D., Chin and Breast Augmentation Patient Columbia, SC*
Breast Augmentation Patient Testimonial Video
"Dear Dr. Kalus,
As you know, I have been under your care for ten years due to my breast cancer.
I would like to thank you for the outstanding care I have received during all my hospitalizations and post care. Your bedside manner, plastic surgery/medical expertise dedication to me as a patient and your profession, are without a doubt the best I have ever known. I can honestly say that without your constant commitment to me, I would not be writing this letter today. You have the ability to put a patient at ease and therefore I have always trusted you.
In addition, you have managed to put together the best staff in any office in Columbia. They are always willing to answer medical questions, insurance, procedures, etc. I commend you for your efforts.
Please feel free to give my name to any prospective patient as a referral.
My best regards and future success to you and everyone on your staff."
– H.M., Breast Reconstruction Patient Columbia, SC*
"Dear Dr. Kalus,
Thank you for a fabulous breast augmentation. I love it, my husband loves it and my friends can't believe how natural my breasts look. I knew after our initial consultation that you were the best surgeon for me. Thank you for making my experience a positive one. (Thanks to Amanda for all her advice – she eased my nerves!)"
– C.D., Breast Augmentation Patient Columbia, SC*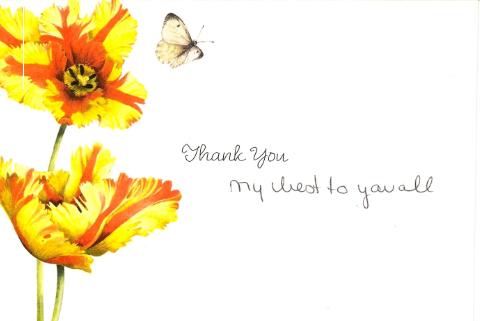 "Dear Dr. Kalus,
With each passing day I am even more pleased with my results from my recent surgery. I want to thank you and your wonderful staff for making my first ever experience with plastic surgery so incredible. At my age, 61, it was a big step for me to even consider surgery, but I am so glad I did. It is now just 6 weeks since the surgery and the results are amazing. My face and neck look so refreshed, and the best part is that I still look like me. I have always wanted to deal with the aging process on my own terms, and with your help, I have. I so appreciate your talent and skill.
– L.D., Facelift Patient Columbia, SC*
"Dr. Kalus,
Just a short note to thank you for the surgery you performed on me and how pleased I am with the results. I had a good feeling as soon as I met you and it was well founded.
You staff was so pleasant and professional and I really appreciated their help as well."
Sincerely,
-JW*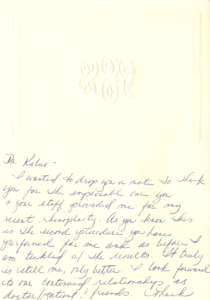 <br/ >"Dear Dr. Kalus,
I wanted to drop you a note to thank you for the impeccable care you and your staff provided me for my recent rhinoplasty. As you know this is the second procedure you have performed for me as as before I am tickled with the results. It truly is still me, only better. I look forward to our continued relationship as doctor/patient and friends. Thanks again for giving me the nose I was meant to have! I love it!!!
– S.G., Rhinoplasty Patient Charleston, SC*
September 20, 2011
As I think back to December 2008, when I was first told I had Stage 1 Breast Cancer, I thought then this is nothing and I will be over this in no time. Little did I know. I was familiar with Cancer in different forms, my sister-in-law died of Breast Cancer in 1993, my Mother died of Colon Cancer in 1994, and my sister died of Lung Cancer in 1995. I felt as if I new the down side of Cancer very well since I was the Care-giver for both my Mother and sister. I saw the results of treatments and new, I wanted no part of them.
I was sent to a surgeon for a surgical biopsy and that was the beginning of many things to go wrong. I could have never imagined what would result from then until now. I had no professional knowledge and didn't know the right questions to ask, so I just did as I was told, thinking I was certainly ok since this was only a Stage 1.
That biopsy was done in February 2009, and to date I have had 30 Radiation Treatments, a Lumpectomy, a Mastectomy, Surgery for and expander to start reconstruction and of course reconstruction of the Breast. I did learn a lot through this long process and I am thankful for the doctors who specialize in this field.
I soon realized I needed a Breast Cancer Specialist, to do the Mastectomy and I found Dr. Harris H. Parker, lll in Columbia. The difference in the information I received was like night and day. He explained everything that would need to be done to try and correct what radiation had done to me. He also, understood all of my anxieties, highs and lows. I felt for the first time I was in good hands. I listened and still did what was recommended to help myself back to some sort of normalcy.
After the Mastectomy, I was referred to Dr. Ram Kalus for the reconstruction of my breast. I went to him with fear and very little hope, since one plastic surgeon had already refused to help me. When I met Dr. Kalus, he looked at what was left to work with and told me of the damage that had been done, not by the Cancer, but by the Radiation Treatments. I was so afraid he too was not going to be able to help me, but he did not turn me away. He did tell me he would do his best to create a breast that would at least help me to wear my clothes comfortably and feel like a woman again.
He did more than that. Dr. Kalus and his staff was so understanding, they listened, they watched me cry, they always comforted me and let me know that all would soon be over. At first I thought this could go on for the rest of my life, and I didn't think that would be much longer since I had so many problems with medications and treatments. I can't express just how alone I deeply felt.
I have a wonderful husband and family who were there through this whole ordeal, but I knew from experience, they had no clue what this had done to me physically and emotionally. But I felt secure with Dr. Kalus leading me to the road of recovery. I've had a total of seven (7) surgeries and all that is left to do is tattooing, which if you have had Breast Cancer, you will know what, why and where that is done.
I am now working two jobs and of course, I get tired but from the beginning, I wanted to be able to keep working through this whole process. I had to stop working for fourteen months just because of so many surgeries. So I set my goal as to get back to work as soon as possible. It is good to have a goal and keep pushing towards it through any hard times in life. I thank My Heavenly Father for letting me reach my goal two fold, I thank my family for being there, and I Thank Dr. Ram Kalus and his wonderful staff for the professional and personal way they have cared for me over the past two years. What a Blessing!
Ever so greatful!
D.G Breast Reconstruction Patient*
PS the tattooing is now done and once again, Dr. Kalus found the best to do that for me. Thank you Susan!!!