Male Breast Reduction
Gynecomastia
Gynecomastia is the medical term for abnormally enlarged breasts in a male. This is not uncommon in adolescents, young men and even older gentlemen. In the younger patient it can be a great source of embarrassment and social disruption, especially with sports activities or changing in the locker room. Dr. Kalus feels that the male breast correction needs to ideally have invisible scars since the male chest is intended to be exposed, unlike that of the typical female patient. Therefore the scars should, always try to remain around the areola exclusively, and not extend into the remainder of the breast or chest as it would typically do in female breast reduction surgery. Click here to see examples of male patients who underwent breast reduction surgery or gynecomastia correction by Dr. Kalus.
Click Here to View Our Gallery.
Contact Plastic Surgery of the Carolinas
If you would like more information on treatment for gynecomastia, or if you would like to schedule a confidential consultation with Dr. Kalus, please contact Plastic Surgery of the Carolinas.
Related Posts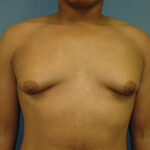 Driving Directions
Dr. Kalus often has patients travel from nearby cities to seek his expertise and personalized care in plastic surgery. For your convenience, we have provided driving directions from the following locations.