Breast Augmentation Isn't All about Adding Size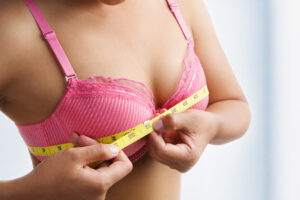 When most people think about breast augmentation, they think about increasing the size of the breasts for an accentuated "bust." While adding size to the breasts is certainly a key aspect of the procedure, it is often not the only goal of treatment, nor is it the sole enhancement a breast augmentation is able to provide.
For women who have experienced a loss of breast volume as a result of pregnancy, weight fluctuations and/or simply aging and genetics, breast augmentation can help to restore the breasts to the shape and volume they once were. While patients have the option of going bigger than their original breast size, simply restoring the breasts to their pre-pregnancy and/or youthful appearance with implants is both completely acceptable and feasible.
In certain cases, some women may have developed breast asymmetries during adolescence that they wish to correct in order to improve the way they look and feel in the nude or in particular clothing. Depending on the specific aesthetic concerns present, breast augmentation can often be performed (either alone or in combination with mastopexy) to improve the symmetry of the breasts with or without a significant volume enlargement.
Lastly, there are some women who are simply unhappy with the overall shape of their breasts, regardless of whether or not they appear symmetrical. In these instances, an augmentation with implants can achieve an improved breast contour without considerably increasing the size of the breasts, depending on what the patient desires.
Ultimately, some degree of volume enhancement may be inevitable when implants are utilized, but this doesn't mean it always has to be a dramatic change. The key takeaway is that breast augmentation can be customized to accomplish a lot more than simply enlarging the breasts—size is just one element of this highly rewarding procedure.
If you have additional questions, or if you would like to schedule a consultation with Dr. Ram Kalus to find out which cosmetic treatment may be most appropriate for your unique needs and concerns, please feel free to contact our practice today.