Comfortable in Your Skin: Benefits of Labiaplasty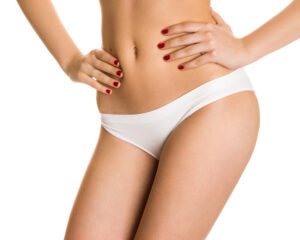 Many women feel self-conscious about discussing their reproductive and sexual health, even with doctors. They may be worried that they're abnormal or alone in having a specific concern; however, the majority of perceived issues are conditions numerous women experience. One example is labial hypertrophy, which refers to excess skin of the labia minora and majora. Typically both an aesthetic and functional concern, redundant labia can often inhibit normal activity due to pain and feelings of self-consciousness. At Plastic Surgery of the Carolinas, Dr. Ram Kalus, our experienced plastic surgeon, performs labiaplasty to help correct the issues associated with this condition and help patients regain confidence.
Labiaplasty, sometimes called vaginal rejuvenation, is designed to reduce the size of the labia minora and/or majora, as needed. When excess skin is present on the labia, there is often a negative impact on normal, everyday activities as well as intimate ones. Discomfort while exercising or during intercourse are typical complaints. Redundant labial skin may also be visible through thin clothing, such as underwear, swimwear, or leggings, which can make many women feel self-conscious. Additionally, many individuals desire a specific aesthetic without redundant labia. Labiaplasty seeks to correct these concerns. Furthermore, the labiaplasty procedure typically offers minimal discomfort and rapid healing, allowing patients to often quickly return to regular activities or finally begin enjoying the ones they have been avoiding.
For every patient, Dr. Kalus endeavors to provide a safe, comfortable environment that respects the delicate nature of this concern, and he offers attentive support from initial consultation to complete recovery.
If you have additional questions about labiaplasty or wish to schedule a consultation with Dr. Kalus, please contact us today.