Charleston Plastic Surgeon Reveals If Patients Can Still Breastfeed After Breast Augmentation or Reduction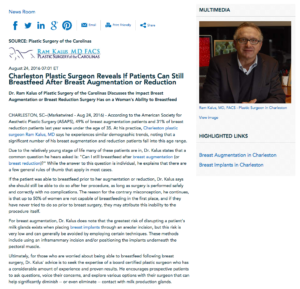 Dr. Ram Kalus of Plastic Surgery of the Carolinas discusses the impact breast augmentation or breast reduction surgery has on a woman's ability to breastfeed.
Charleston, SC — According to the American Society for Aesthetic Plastic Surgery (ASAPS), 49% of breast augmentation patients and 31% of breast reduction patients last year were under the age of 35. At his practice, Charleston plastic surgeon Ram Kalus, MD says he experiences similar demographic trends, noting that a significant number of his breast augmentation and reduction patients fall into this age range.
Due to the relatively young stage of life many of these patients are in, Dr. Kalus states that a common question he hears asked is: "Can I still breastfeed after breast augmentation (or breast reduction)?" While the answer to this question is individual, he explains that there are a few general rules of thumb that apply in most cases.
If the patient was able to breastfeed prior to her augmentation or reduction, Dr. Kalus says she should still be able to do so after her procedure, as long as surgery is performed safely and correctly with no complications. The reason for the contrary misconception, he continues, is that up to 50% of women are not capable of breastfeeding in the first place, and if they have never tried to do so prior to breast surgery, they may attribute this inability to the procedure itself.
For breast augmentation, Dr. Kalus does note that the greatest risk of disrupting a patient's milk glands exists when placing breast implants through an areolar incision, but this risk is very low and can generally be avoided by employing certain techniques. These methods include using an inframammary incision and/or positioning the implants underneath the pectoral muscle.
Ultimately, for those who are worried about being able to breastfeed following breast surgery, Dr. Kalus' advice is to seek the expertise of a board certified plastic surgeon who has a considerable amount of experience and proven results. He encourages prospective patients to ask questions, voice their concerns, and explore various options with their surgeon that can help significantly diminish – or even eliminate – contact with milk production glands.
About Ram Kalus, MD, FACS
Dr. Kalus is a board certified plastic surgeon practicing in the Mount Pleasant and Charleston, SC area. At his practice, Plastic Surgery of the Carolinas, he offers a full range of breast enhancement, body contouring, and facial rejuvenation procedures, as well as numerous reconstructive surgery options. He also provides a wide array of non-surgical and minimally invasive treatments, including cosmetic injectables, laser resurfacing, and more. Dr. Kalus is a Fellow of the American College of Surgeons, and he maintains active membership in both the American Society for Aesthetic Plastic Surgery (ASAPS) and the American Society of Plastic Surgeons (ASPS).
For more information, visit plasticsurgerycarolina.com and facebook.com/plasticsurgerycarolina. Dr. Kalus is available for interview upon request.
Contact:
Plastic Surgery of the Carolinas
578 Lone Tree Drive
Mount Pleasant, SC 29464
(843) 881-3881
Rosemont Media
(858) 200-0044
www.rosemontmedia.com